The best Excel alternatives in comparison
Although designed as a spreadsheet program, there is probably no other computer program used today for so many different applications as Microsoft Excel. Those who do not want to be tied to the American quasi-monopolist are spoilt for choice! Calc, Google Sheets, Apple Numbers, and SoftMaker Office are only the best known of the numerous alternatives. A newcomer among the online spreadsheet applications is SeaTableone that has a significantly expanded range of functions compared to other Excel alternatives, thus reviving the competition.
Function and feature comparison
For those who just want to get a quick overview, the following table compares the central features and functions of the most important Excel alternatives. A detailed description of these programs follows further below, following a categorization of the spreadsheet programs considered here.
In this comparison, only local applications that can be used by at least two operating system platforms were considered. For this reason Apple Numbers is not included as a pure Excel alternative for Mac, nor is Gnumeric, whose developers have stopped providing Windows installation files in 2014 and which is now a pure Excel for Linux.
 
Calc
Planmaker
Google Sheets
Zoho Sheet
Ethercalc
SeaTable
Developer
LibreOffice and OpenOffice
Softmaker GmbH
Google Inc.
Zoho Corp. Pvt. Ltd.
Community
Seafile Ltd.
Platform
Windows, Mac, Linux
Windows, Mac, Linux
Browser-based
Browser-based
Browser-based
Browser-based
File format
ODS
PMDX or XLSX
-
-
-
-
Costs
free of charge
Purchase: 100€
Rent: 30€ p.a.
free option
free option
free of charge
free option
Registration
Text Fields
Number fields
Date fields
Formulas
Single selection
() via data validation
() via data validation
() via data validation
() via data validation
Multiple selection
Formatted text
Files
pictures
Position data
Creator
Creation time
Last editor
Processing time
Relations
Max. Columns
Max. lines
1.024
1.048.576

16.384
1.000.000
5,000,000 cells
256
65.536
n/a
500
500.000 (depending on subscription)
Evaluation
Data validation
Sorting
Filter
Grouping
Conditional formatting
Target value search
(per add-on)
Pivot tables
Diagrams
()
Map view
Gallery View
Timeline view
Integrations
External data
(via functions, add-ons and scripts)
(via add-ons and scripts)
API
()
Plugins
SDK
Classification of the Excel alternatives
Not included in the tabular comparison are the two properties operating mode and availability of the source code. We will now make up for this! A matrix based on these two criteria provides an overview and a decision-oriented classification.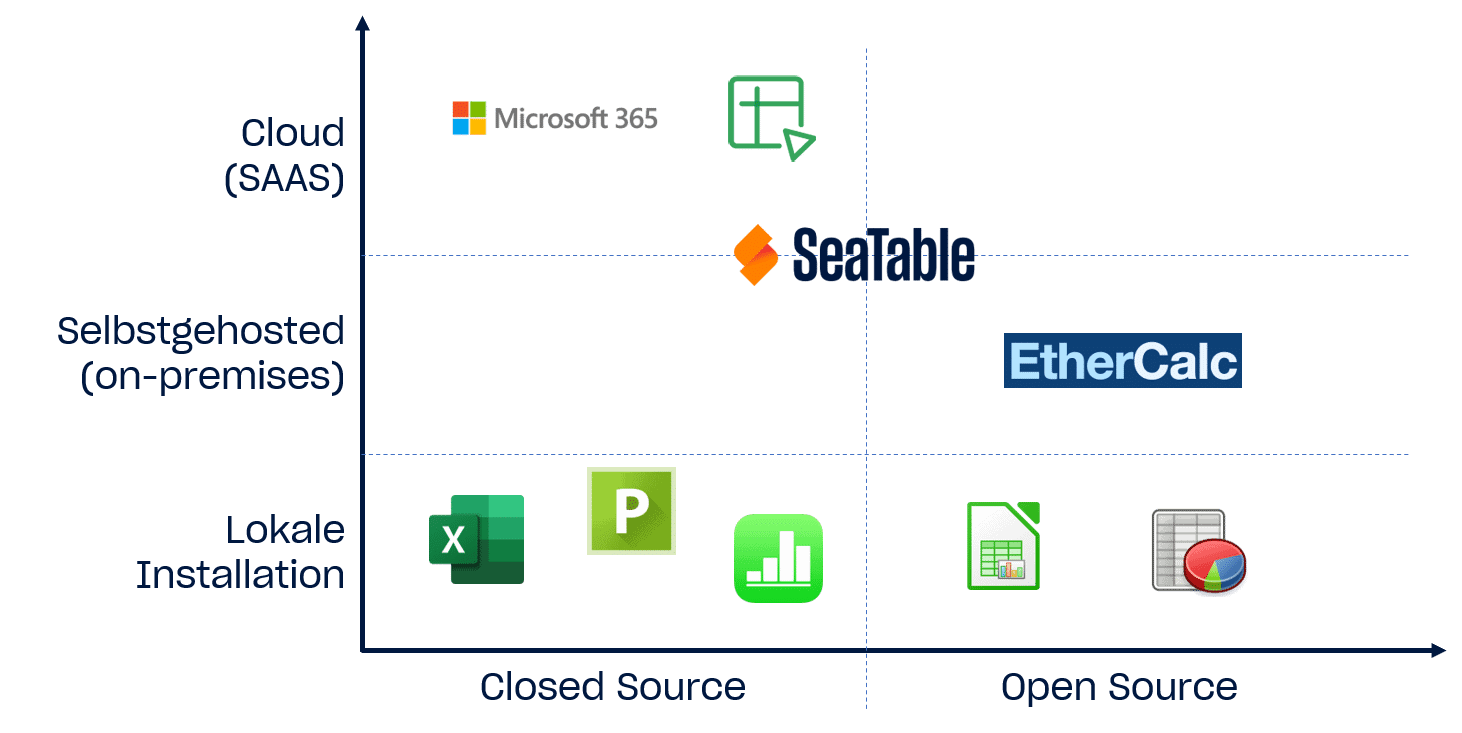 A comparison of spreadsheets 15 years ago would have compared only local applications such as Calc and Apple Numbers from the two lowest quadrants with Microsoft Excel. With the triumph of cloud computing, browser-based spreadsheets have gained enormous market share and are increasingly becoming the leading applications today. It is not for nothing that Excel Online is now available as a web application of the Microsoft 365 package in addition to the classic Excel.
The advantages of server-hosted solutions cannot be denied either. On the one hand, there is the location and device independence of cloud applications. A browser is all you need. The end device and its operating system no longer play a role. Whether desktop or mobile device, at work or on the road, you always have access to your data. Just as important is the topic of collaboration. Changes made by one user are immediately forwarded to others - you work together as if you were sitting together in front of the table. All cloud and self-hosted solutions support real-time collaboration on tables. Last but not least, cloud solutions are unprecedentedly convenient for both administrators and users. Decentralized installation and maintenance of the software on the workstations is no longer necessary.
Although local table solutions are listed, they still have a right to exist. The most important argument on their side is independence from Internet access. If you want to make a few changes while traveling, you will not be able to avoid them for the time being. Another argument, albeit one that is losing in importance, is the wider availability of extensions, such as the macros that are indispensable in many companies. In many cases these are only available for the desktop versions. The same applies to literature management systems, which are indispensable in science.
Would you like to?
Try SeaTable Cloud now for free
Install SeaTable Enterprise yourself
Calc
"The Open Source spreadsheet of the LibreOffice and OpenOffice Suite"
Before the boom of cloud-based spreadsheet solutions, Calc was the undisputed Excel alternative and is still very popular among private users. Calc convinced then as now with many functions, a broad platform support with installation media for Windows, Mac and Linux as well as a large user community that offers extensive documentation. Another plus for Calc: It can be used privately and commercially free of charge.
Calc is found in a similar, but not identical form in OpenOffice and the LibreOffice Office Suite. The reason for this can be found in the common past of the two suites. In 2010, LibreOffice split off as a separate project from OpenOffice, which was then dominated by Oracle and paid little attention to the project. Since then, the development of LibreOffice has been continued independently from The Document Foundation. A little later Oracle withdrew completely from the project and handed it over to the Apache Software Foundation, which since then has given its name to OpenOffice.
Calc is in no way inferior to Excel when it comes to the core functions! If you take a closer look, you will also find some features that Excel does not offer. Calc shows a special strength in the area of formulas. The formula assistant of Calc knows about 30 functions more than the competitor of Microsoft. In addition, Calc offers as an Open Source Excel alternative a good support of the OpenFormula standard. Calc is also flexible when it comes to formatting. In addition to the usual cell formatting, Calc knows cell and page styles, with which tables can be quickly designed in an attractive and uniform way. True to the open source paradigm, Calc also promotes data portability: Apple Numbers and Gnumeric files can be imported as well as numerous older formats (e.g. MS Works, Lotus 1-2-3). The ability to compare two table files is another Calc feature that Excel users have been waiting for in vain. Administrators also appreciate the ability to start and run OpenOffice like LibreOffice directly from a USB stick without installation.
But it is also true that Calc has limited macro support and is not flexible when connecting to external data sources. Therefore it fails for many commercial users. For heavy users the lack of multithreading capability and the lack of power pivot is still a weighty argument against Calc. Less ambitious users are most likely to notice the reduced selection of chart types. Waterfall charts and histograms, for example, are not available.
Users, who only work a little with the advanced functions, will have no problems when getting started or switching to Calc. The user interface of Calc is clearly arranged and the menus are logically structured. Something different for experienced Excel users. These will see their work efficiency go downhill at the beginning, as they will have to search for the desired functions more often. It is not the less modern appearance of the user interface that is decisive here, but the different organisation of functions and their mode of operation.
Another obstacle for switching to Excel Alternative Calc is the incomplete support of the XLSX file format used by Excel. XLSX documents can be opened in Calc, but formatting and functions may be lost. The LibreOffice developers themselves refer to the support for importing from and exporting to Microsoft's OOXML files as "Partial". The standard file format of LibreOffice and OpenOffice is ODS, a manufacturer-independent document format based on the Open Document Standard.
PlanMaker
"The Excel clone from Softmaker"
PlanMaker is the spreadsheet application of the SoftMaker Office Suite from Nuremberg-based SoftMaker Software GmbH. In addition to PlanMaker, the Office Suite from Germany also includes the document processor TextMaker and the Presentations application.
If you are looking for a free alternative to Excel, PlanMaker will disappoint you at first: The purchase license for five private or one business computer costs about 100€. For 3€ per month or 30€ per year you can also rent the SoftMaker Suite. If you don't want to spend any money, you will find a functionally limited version of the SoftMaker Office Suite under the name FreeOffice, which can be used permanently and free of charge.
However, if you want to get away from Excel out of antipathy to Microsoft and are looking for a powerful, convenient Excel clone, PlanMaker is the perfect choice. PlanMaker offers a comprehensive feature set, an attractive user interface that is very close to Excel, and excellent compatibility with Excel's XLSX file format. In fact, SoftMaker Suite applications can use Microsoft's OOXML file formats for file storage by default. Thus, PlanMaker eliminates many of the disadvantages of using Calc as an Excel alternative.
But PlanMaker can also score against Excel in other places: PlanMaker runs on all major desktop platforms, making it an attractive Excel alternative for Mac and Linux. FreeOffice is also available for the three operating system families.
Sheets
"Google's Online Spreadsheet"
Sheets is the spreadsheet web application from Google. It offers an attractive user interface, rich data analysis functions and practical team functions. All you need to get started with sheets is a (free) Google Account - and who doesn't have one? No wonder that Google Sheets is probably the most popular Excel alternative at the moment!
With Sheets, the Google developers have created an application in which beginners and demanding users alike feel comfortable. The web-based user interface runs very smoothly, the menus are well organized and even dedicated users will hardly have any functional wishes open. On the other hand, it is precisely the omission of some functions that makes Google Sheets attractive for beginners.
Especially if the focus is on collaborative work on tables, Sheets can play its trump cards as a web application. Google Sheets spreadsheets are stored in Google Drive, which is also associated with the Google Account. From there, spreadsheets can be shared with other users with just a few clicks. When editing at the same time, all editors see the cursor positions and the input of the others in real time. An integrated chat allows direct exchange with colleagues.
While Google Sheets shines when it comes to collaboration, you have to accept certain limitations when it comes to advanced functions compared to Excel. Especially in the area of visualization, the possibilities are not yet quite at the level of the original. The options for creating high-quality, uniform charts are a bit more versatile with Excel. Still.
Google is well on the way to catching up with the top dog Excel. Since its humble beginnings in 2006, Sheets has developed rapidly. And the development continues. At the beginning of 2020, for example, a version history of the changes was integrated. If the existing functions of Sheets are not sufficient for you, you can "retrofit" additional functions via add-on from the G Suite Marketplace.
Newcomers will probably find it easier to work with sheets than with Excel. After a short period of getting to know each other, newcomers will also find their way around quickly. The major problem with switching is not so much in terms of use as in data migration. It is impressive how many Excel features Google Sheets recognizes and imports (e.g. data validation). However, reports of formulas that no longer work or destroyed charts after import are still available.
Sheet
"The Zoho Office Suite's online spreadsheet"
Zoho Sheet is the web spreadsheet of the Indian Zoho Corporation and part of the Zoho Office Suite. This has attracted a lot of attention in recent years, not least because it can be used by private individuals free of charge. Other parts of the online office suite are Zoho Writer (word processing), Zoho Show (presentations) and Zoho Notebook (notes). Zoho also offers more than 40 integrated, web-based office apps, making it a G Suite alternative. So it is definitely worth taking a closer look.
Those who suspect further similarities to Google Sheets due to the similarity in name and the claim as G Suite Killer are not wrong. At first glance, Zoho Sheet appears as a Google Sheets clone. The menu structure is virtually identical; differences only become apparent at second glance. Zoho Sheet and Google Sheets are also close to each other in a direct function comparison. Web forms, pivot tables, conditional formatting, versioning and extensive collaboration functions including sharing, real-time collaboration and chat are available in both. If you are comfortable with Google Sheets, you will also have no trouble with Zoho's Excel alternative.
But you do Zoho Sheet wrong if you deny him individuality! In the area of data analysis, Sheet offers more than its Google counterpart with a solver and a target value function. Due to its less market-dominating role, it is also pleasingly integrative. Spreadsheets created in Zoho Sheet can be stored in their own online storage - Zoho Docs for individuals, Zoho WorkDrive for teams - or in an integrated account of Google Drive, Box, OneDrive and Dropbox. File export is possible in files of type .csv, .xlsx and .ods.
One of Zoho Sheet's strengths, which makes it a recommended alternative to Excel, especially for those who are new to Excel, is its macro support, which includes support for Visual Basic for Applications (VBA). Google Sheets' powerful scripting engine requires JavaScript-based scripts for macros in Google Apps. For Excel users who have been developing in VBA up to now, this means a massive adaptation or learning a new programming language.
The race between Zoho Sheet and Google Sheets is a close one and the question of the superior Excel replacement cannot be answered without the context of the specific application. Especially in the area of data visualization Zoho Sheet offers fewer options than Google Sheets. Also, drawing is not supported by Zoho. For some users, the limitation to 65,000 rows and 256 columns may also be a significant limitation. A good Google Sheets alternative is Zoho Sheet for those users who are new to Excel and do not consider an Excel sheet without a macro to be a real Excel spreadsheet.
Ethercalc
"The open source web spreadsheet for easy collaboration"
The less known Ethercalc is a simple web-based spreadsheet application developed by a small community. As open source software, everyone can download and use Ethercalc without restrictions. The developers provide packages for all major server platforms including a docker image. At https://ethercalc.org you can test and use the application without user login.
At first glance, the rudimentary, somewhat dusty looking user interface of Ethercalc is noticeable. Also the functions provided by Ethercalc are rather small compared to Excel and the other cloud-based Excel alternatives. This is already noticeable when formatting and simply analyzing data, e.g. when sorting. While with Excel and other cloud-based alternatives, wizards make this work easy and comfortable, Ethercalc's menus make it a lot easier. The possibilities for data visualization are very limited, a filter function is completely missing.
Ethercalc is not equal to the other Excel alternatives in terms of functionality and comfort. This is partly due to the small developer community, but also to the general goals of the project.
Ethercalc does not focus on the analysis of large data sets, but on collaboration and location-independent data acquisition. As a table on the web you don't need an installed program, but can make adjustments on the go via mobile phone or tablet. Thanks to real-time support, all changes in Ethercalc are immediately visible to everyone else. For the evaluation of the captured data an export function is available, which allows the easy transfer into XLSX, ODS, CSV and HTML.
SeaTable
"The collaborative web spreadsheet for more than numbers and text"
SeaTable is the most recent application in the circle of Excel alternatives considered here. Like Google Sheets, Zoho Sheet and Ethercalc is SeaTable a server-based spreadsheet application that combines an attractive user interface with powerful analysis and collaboration features. Beyond that, SeaTable however, many things are different from the competition and thus enable many new use cases that were not and are not possible in Excel and its consorts.
The fact that SeaTable some things are different from the other spreadsheets is obvious the first time you open a table. Instead of a uniform table grid that only understands text, numbers and formulas, a SeaTable table can also store images and files, checkboxes, position data and user references. Other field types that are SeaTable offered are single and multiple selections. Single selection fields are the drop-down lists that can be mapped in Excel via data validation. However, the selection fields in SeaTable are more flexible and easier to use. Multiple selection fields, which have no equivalent in Excel, help to categorize and keyword data. With these extended field types, all conceivable information types can be stored in a table. Different storage locations for different data types is a thing of the past.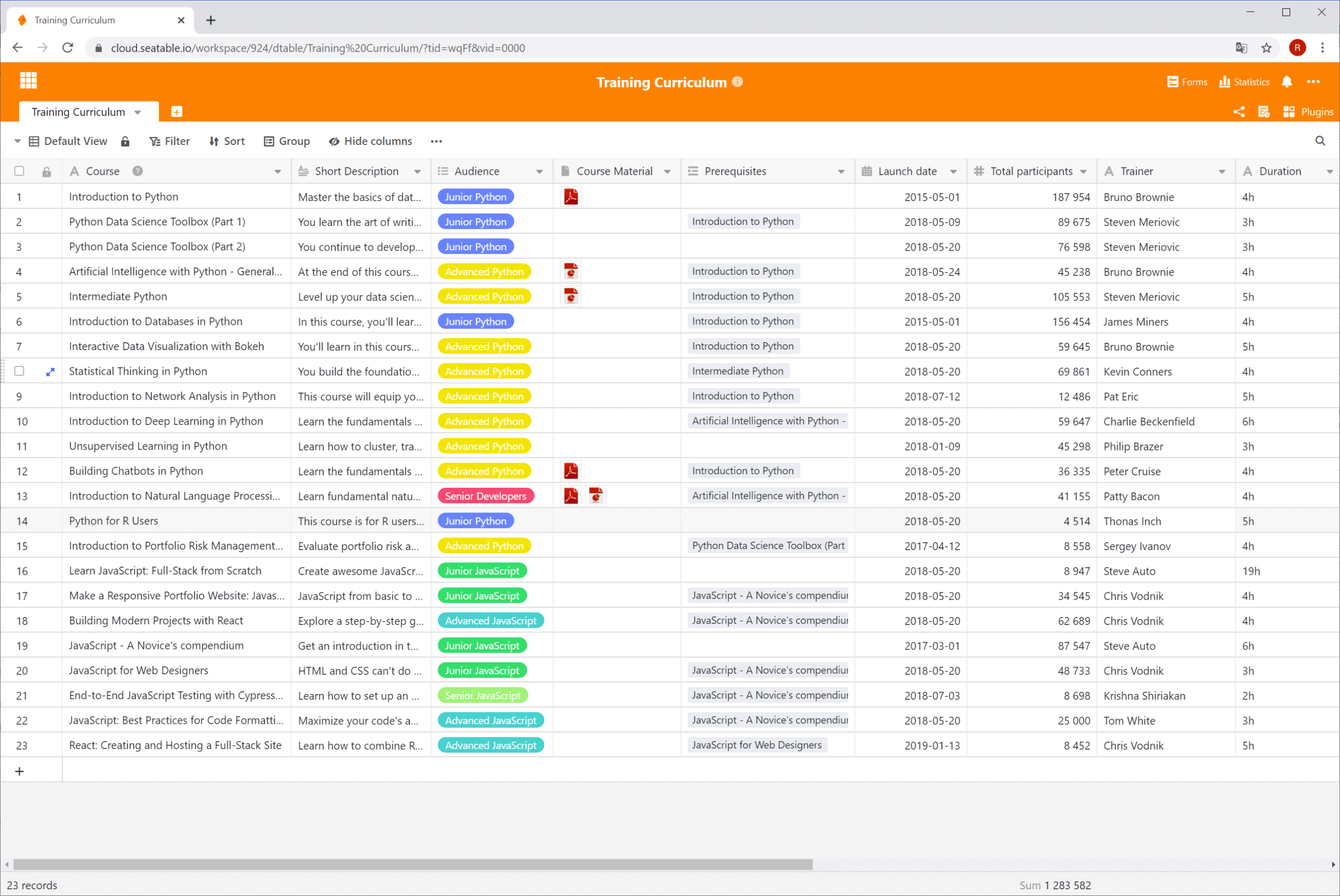 Another function that is not available in any of the other applications are shortcuts. Relationships can be used to relate data records to each other and to map dependencies or affiliations. (Not to be confused with cell references in Excel.) This can be done within a table and across tables, for example, sales in one table and branches/sellers in another table. Using the corresponding analysis functions, these can be easily evaluated graphically and in table form in the Online Excel Alternative. thus SeaTable brings functionalities that are otherwise only known from database systems into a simple, intuitive form.
Of course, it SeaTable also has the classic functions of a spreadsheet: filters, sorting and grouping put data into the desired form, pivot tables allow even large data sets to be evaluated quickly, and the various types of charts present data visually. But as with the supported data types, the display options go SeaTable one step further than the other Excel alternatives and online tables. SeaTable's advanced views provide visualization options for the non-numerical data types: The Map View allows address and geodata to be displayed on a single map, and the Gallery View displays the image data stored in a table next to each other in a clearly arranged manner. Appointment data stored in a table can be displayed and edited in the calendar and timeline view, as otherwise only known from project management applications.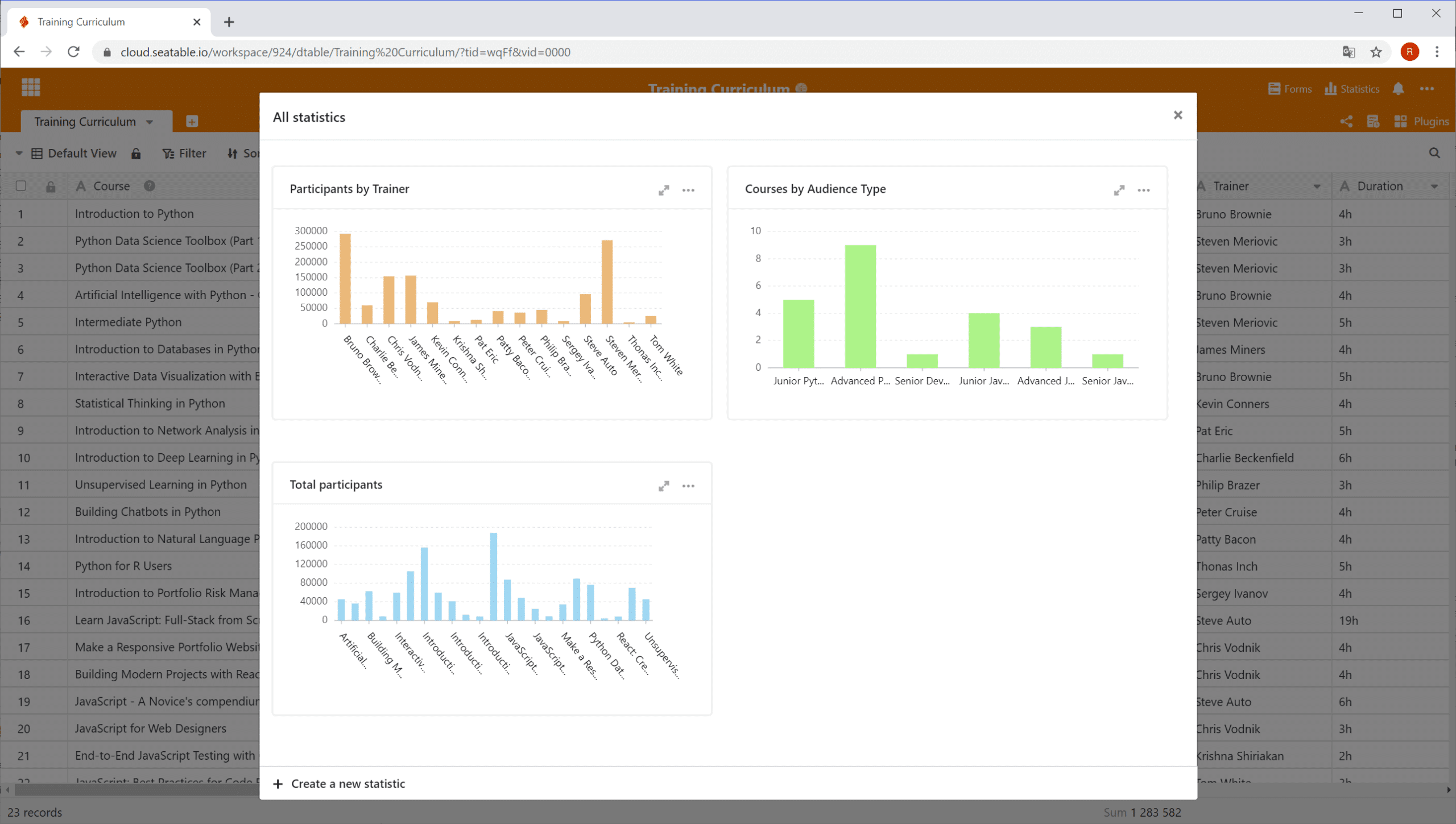 As a solution of the new approaches does not make SeaTable any compromises on the operating form. SeaTable can be used comfortably as a hosted SAAS solution. The Free subscription is permanently free of charge. Unlike the other online Excel alternatives, it SeaTable is also available as software for your own server. In this way it is SeaTable also suitable for all those who are confronted with strict data protection requirements. Two different editions are available: The SeaTable Community Edition is free of charge and partly open source. The Enterprise Edition, which is subject to a fee, offers advanced features for enterprise use, such as central user authentication, clustering and object storage support.
A similar approach to Google Sheets - and thus pleasantly conventional for developers - is used SeaTable for the topic of extensions. Via API and SDK, extensions such as automations, integrations and functional additions can be developed with manageable effort. These can be installed with a few clicks via a plugin store. Given the young age of the solution, it will be exciting to see what new features will be added in the future.
SeaTable-beginners will first have to get used to defining the infotypes per column before entering data. However, the intuitive spreadsheet user interface makes this challenge manageable. Excel migration is further facilitated with import functions for CSV and XLSX files. However, due to the data formats SeaTable used, information may be lost during import.
Wide range of good Excel alternatives
If you want to have a powerful spreadsheet application, you don't have to resort to Excel! The available alternatives do not have to hide themselves neither in terms of functionality nor in terms of usability. The free alternatives are also more attractive.
The known Excel alternatives in this comparison are functionally similar to Excel and offer a similar user experience. The cloud solutions are mature solutions that represent the majority of Excel functions and also score points with collaboration functions. Outstanding features SeaTable are the advanced data formats, database functions and application-oriented views. The only application in this comparison is available SeaTable both as a cloud and as a self-hosted application. The decision between data sovereignty and comfort can be made freely by everyone.
Try the SeaTable Cloud for free now
Or install SeaTable Enterprise yourself
https://seatable.io/wp-content/uploads/2020/08/seatable-excel-alternative.jpg
611
1000
Ralf Dyllick-Brenzinger
https://seatable.io/wp-content/uploads/2020/06/logo.svg
Ralf Dyllick-Brenzinger
2020-08-16 18:39:05
2021-02-28 13:52:10
The best Excel alternatives in comparison