The abbreviation API stands for Application Programming Interface and typically describes a programming interface to exchange information between an application and individual program parts in a standardized way. An API defines the structure and syntax needed to execute predefined commands. APIs are typically found in web applications and are primarily intended to make life easier for developers. For a slightly more comprehensive explanation of APIs, see the following article from howtogeek.com. The full API documentation of SeaTable can be found at this link.
Create API token for zapier.com #
zapier.com is a web service that allows you, the user, to link actions between different web applications and automate everyday tasks. Such a link could be useful between your Google Calendar and SeaTable, for example. Every time you create a new entry in your Google Calendar, a new entry in a table is automatically created for you in SeaTable. In order for zapier.com to access your SeaTable account, you need to create an individual API token for your Base.
To do this, move the mouse over the desired base and click on the three dots to display the extended context menu. Here you will find the entry API tokens. If you click on it, you have the possibility to create as many API tokens as you want for this base. Zapier needs such an API token for authentication.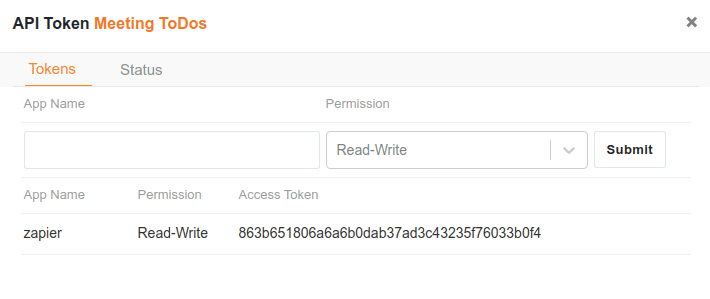 Copy the API token to the clipboard and paste it into Zapier's authentication dialogue. This gives Zapier access to your base and allows it to perform the automated actions.