Managing a fleet of vehicles is a versatile and responsible task for companies and self-employed persons. With a template for your fleet management, vehicles and their use can be planned precisely. In the following, we explain how you can manage bookings, returns, repairs and inspection dates in a convenient and uncomplicated way.
What exactly is fleet management?
Every company that owns company vehicles should have a good system for managing them - it does not matter whether the vehicles are used for transporting goods or whether the vehicles are intended for transporting people on business trips. Fleet management includes the complete organisation of a company's own vehicle fleet, but also ensuring the economic efficiency of goods transport or passenger transport.
Fleet management enables the securing and maintenance of operations. For this purpose, existing vehicles must be maintained, repaired and serviced. In addition, the fleet must be managed efficiently in terms of costs. For short trips, for example, electric vehicles can also be used to conserve resources and the environment.
Tasks of fleet management
Fleet management can vary in size and intensity. This depends entirely on the purpose for which the vehicles are integrated into the company. Transport companies, or companies that depend on vehicles for their daily business, will certainly organise their fleet planning somewhat differently than companies that only need their fleet for their employees and business trips.
Fleet management has the task of making all processes involving vehicles as efficient and cost-effective as possible. This concerns acquisition costs, operating costs, but also maintenance work and repairs. Savings here can be used sensibly in other places.
It is also important to keep an eye on the environment and sustainability when planning a fleet. For companies, these topics are more important than ever before. E-mobility and the reduction of CO₂ emissions are issues that have a high priority in the public eye due to social and also political discourse and create an expectation among customers. In view of the mobility turnaround, planning electric vehicles into the fleet is not only a financial aspect, but also a strategic one.
However, the problem-free and uncomplicated allocation and provision of vehicles is also an important task. For this purpose, digital booking systems can be used to facilitate the booking and to document the process completely.
Important aspects of fleet management
Handover of vehicles
Booking and distribution of vehicles
Commissioning and monitoring repairs and inspections
Management and needs assessment of the vehicles
Follow strategic guidelines
Systems for fleet management
There are several different solutions for managing a fleet of vehicles. The software solution should fulfil various requirements: On the one hand, it should be flexible and thus applicable to a wide range of scenarios. It should also be able to collect different types of data while remaining easy to use.
Depending on the size of the company, the requirements for such software are different - here, the flexibility of the software is particularly important so that it can adapt to the needs of the company. Large companies, for example, can fall back on dedicated industry solutions, but these are often expensive. However, smaller businesses and traditional companies that only have a small fleet of vehicles do not have to plunge into the expense of an expensive fleet management system.
SeaTable is best suited for the management and organisation of small fleets, such as in craft businesses or small companies that have employees in the field. We explain below how you can efficiently use our SeaTable template for your fleet management!
Manage your fleet with SeaTable
Keep track of your entire fleet. With our Fleet Management Template you can catalogue your vehicles and make them available to your employees for booking. Document handovers and returns as well as repairs and appointments for your vehicles.
In the first step, compile an overview of your fleet: You can enter any information that is important to you. With different types of columns, you can create your very own view of your fleet. For this purpose, we have stored images that are displayed directly in the gallery plug-in. Add further data to describe your vehicles, such as make, colour, drive and mileage.
Set all the information you need in your daily business here and create your own catalogue.
Manage bookings and rentals
Manage all bookings of your vehicles in one table. Interested parties and employees use a web form for the booking, which is based on the columns of this table. Contact details are entered there, the desired vehicle is selected and the rental or usage period is specified - after sending, the request immediately appears in your table and you can process it.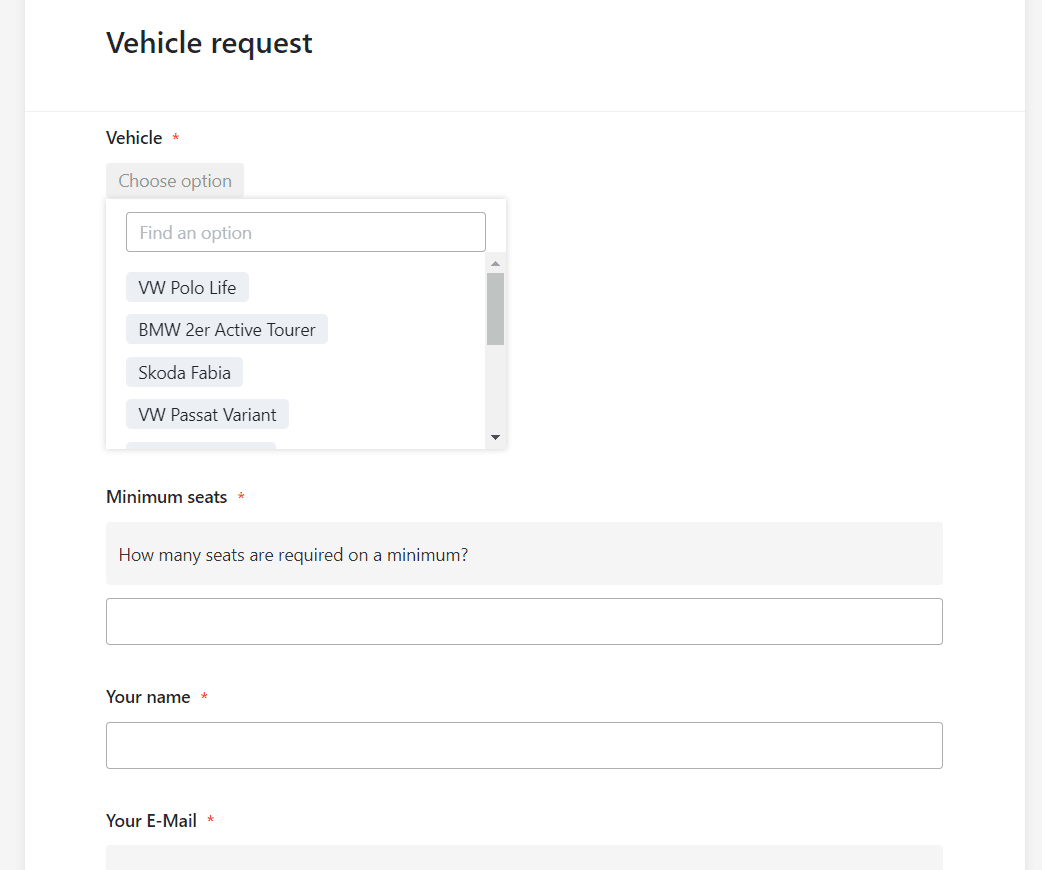 There are several tables linked to the "Rentals" table to reflect data. Each request can be assigned to an existing employee and the desired vehicle. Then check if the vehicle can be used at the requested time or if it is already assigned in the period.
Use the timeline plugin for this: All requests with the desired time period are displayed here. If there are double bookings, as in our picture example, you can reject the request that arrived later.


After the check, the status of the application can be changed with a simple click. With the button column, SeaTable makes it possible to automate certain processes and trigger them with just one click. This allows you to easily process applications further.
The rejection or confirmation of a vehicle booking is also fully automated with just one click. In our fleet management template, you can either confirm requests if there was no double booking or reject them. A preset email is then sent to the applicant with the respective information.
Keeping an eye on maintenance
Since the condition of all vehicles must always be strictly recorded upon handover, handover records are essential. Damage or other signs of wear can be recorded directly. Again, a web form is used for this purpose, which appears directly in the table after submission. If repair work is required, the repair progress can be documented in the "Repairs" table.
To keep all vehicles roadworthy, appointments such as inspections and tyre changes must be kept regularly. The general inspection, which is due every two years, is also obligatory so that the vehicles in your fleet can continue to participate safely in traffic.
Important dates are already marked in the table. Through notification rules, which are automatically triggered by a rule, involved responsible persons are informed in time about upcoming appointments. So you don't have to look at the calendar every day - SeaTable automatically sends you everything important at the right time.
Use SeaTable for your fleet
SeaTable offers simple and intuitive handling of your fleet and incoming booking requests. This means you always have an overview of which vehicles are available at what time and the condition of your fleet. Try SeaTable and our fleet management template today and get to know SeaTable with its flexible applicability!