Continuing education is one of the most important things in the workplace today when it comes to personal development and professional qualifications. As an employer, it is important to support its employees with workshops and to offer them opportunities for further development, because for many employees today this is part of an attractive job. However, managing workshops is sometimes a mammoth task and requires a lot of organisational effort. SeaTable helps you here.
Why internal workshops are important
Since employees are also often one of the most important resources for companies, it is in the interest of companies to promote these resources and thereby make them even more valuable. Accordingly, further training can be seen as a sustainable investment in the company. Because the new knowledge that your employees acquire not only benefits them, but also the entire company.
Further training also contributes to change and process management - either with targeted seminars on lean management or generally when workflows are improved and made more efficient through the use of various workshops. If major structural changes are imminent, these measures can help to bring them closer to the employees step by step. Workshops can either be conducted internally or you can bring in external experts. Well-known training institutions are, for example, the Haufe Academy or the International DAAD Academy, both of which offer high-quality training seminars.
Improve your company resources
Of course, there is a risk that employees will apply to other companies after gaining their qualifications and that the training will no longer be of use to the original employer. However, further training and the opportunity to use it contribute to increasing the satisfaction of your employees.
They feel taken seriously and see it as a positive signal when the employer takes their needs and wishes seriously and offers them the opportunity for further training. This strengthens employee loyalty to the company and, in the long term, also has the effect of reducing staff turnover and the need to recruit fewer new employees.
Workshops: A must-have for attractive employers
Of course, further training also has some advantages for employees. On the one hand, employees expand their qualification profile and learn important new skills that they can use in their daily work. This upgrades them as a resource and makes them a valuable member of the company who becomes indispensable to the boss in their individual position.
On the other hand, employees develop better chances of promotion in the company as new competences can expand the field of tasks. This also increases the chances of a higher salary, because the better the qualifications, the sooner a more attractive salary level becomes within reach. And last but not least, further training is also an exciting challenge for employees, especially if no new paths and options open up professionally.
Planning, organising and managing workshops can quickly become confusing in larger corporate structures. A lot of different data has to be collected and managed. Therefore, it makes sense to invest in good solutions that can reduce the work to a minimum. This is where SeaTable comes in: As a powerful software with highly flexible and practical functions, SeaTable is an ideal tool for organising and managing workshops.
Managing workshops: A snap with SeaTable
With SeaTable, you always have an overview of your workshops and training measures and have all information at a central data collection point. You manage not only your workshops, but also the coaches and participants and the feedback on individual training measures. SeaTable enables the overall management of your employees' training in a central database and offers the best conditions for structured data preparation.
Our built template contains various important data collection points that result in a well-rounded workshop management system. With four different tables, the most important areas are covered in one base.
1) The basis: workshops with all the information
In the first base, all workshops that take place in your company are collected and entered with all important information. The linking of other tables allows direct assignment to a coach. With different categorisations in the subject area and the qualifications that can be acquired, the data can be sorted according to need.
The dates of the courses can be confirmed with the Calendar Plugin The monthly view provides a quick and clear overview of the appointments. The weekly, daily and agenda views are more detailed and provide a precise overview.
This allows for a closer look with more information. Another plus: The Map plug-in automatically recognises addresses in text fields and displays them on a map. This way, participants know directly where a workshop will take place and whether a longer journey will be necessary.
Course documents can be uploaded directly into Base. Since SeaTable is also a database, this smart column function completely eliminates the need to manually share course documents via email or folder storage. Even better: There is always only one official version, which is constantly updated and made available in the base.
2) Manage and inform coaches
The Coaches table contains all the information about the coaches who run the workshops with your staff. For example, all contact details, portrait pictures as well as the educational qualification and the special specifications of the coaches are stored there. A linked column displays the associated workshops and the employees who participate in them.
Information collection is not only important for the staff sector. Through the share function, individual views can be provided for the individual trainers, which only contain the information they should also see. If a person does not belong to your company, a special view can be shared with a person using external link sharing. For example, a coach can see the participants for his workshops, but by deliberately hiding the feedback, this column does not appear.
With manually granted permissions, you can determine who can change or delete entries in the base and thus prevent manipulation of the data by unauthorised persons. With the Page Design Plugin it is also possible to create a trainer profile with the data contained in the table and save it in PDF format. With just a few clicks you have an information sheet for your staff.

3) Log in with integrated web form
The table Participants collects all registrations from your employees. For this purpose a Web form web form is used, which can be created in SeaTable with the entered columns of the table. The web form is a very powerful tool to collect and analyse data easily and without effort. We have already created a form at this point that contains all the information for registration. This allows your employees to register for workshops independently and they are already registered as participants in the system immediately after submitting the form. Practical: The linked column Workshops comes from the 1st table Workshops and thus simultaneously transfers the participants to the 1st table.
4) Create documents and certificates automatically
A lot of effort is also saved with the Page Design Plugin when creating certificates of participation. The plugin works with the information entered in the table and can be used with them and additionally inserted information quite individually for the creation of files. In our case, we created a certificate of participation that attests to the workshop and the skills learned by the participants. With the Page Design Plugin, personalised documents can be created almost fully automatically in this way, which can be saved in PDF format. This opens up many possibilities to use the registered information not only for one's own exploitation but also to design publicly accessible information sheets.
5) Collect feedback in the follow-up
What would continuing education measures be without corresponding feedback to evaluate the courses? For this purpose, we have created a fourth base, which deals with the request for feedback. Here we also work with a web form in which the participants can rate their workshop and coach with a star system and free text fields. The feedback is collected in this table and can be used for the further development of the workshops.
If there are anomalies in a course, a change in the structure or the replacement of a trainer can be initiated. Since the training measures are about your employees, it is even more important to listen to them. For example, if feedback is often received that topics or tips were missing, this could be an indication to create a new workshop that focuses on exactly this and thus closes the gap in your staff's needs.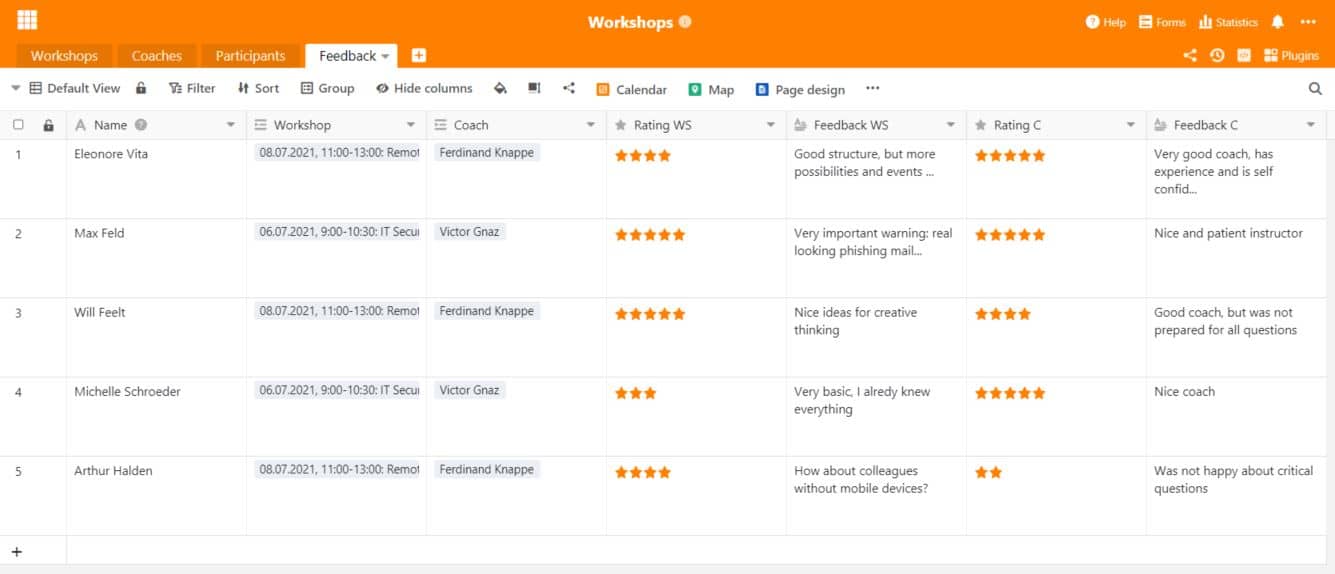 With SeaTable, you can map and manage every process related to workshop planning in a meaningful way. The focus is always on the greatest possible efficiency for you, your staff and other participants. Other tables and entries are also conceivable, depending on the status of your company. If, for example, you are still in the general planning stage of further training measures and would like to enquire about the needs and interests of your employees, this can also be done via a web form in the form of a collection of ideas.
Other to-do's related to planning, such as organising locations, ordering materials or procuring means of transport, can also be easily included in this base with SeaTable. The possibilities are almost limitless with the functions of the SeaTable column types.
Register today for free and try out our template directly! The intuitive functions can be used for a wide range of use cases and thus offer extreme cost advantages.