Perfect task management for your projects with SeaTable
Managing projects and task management requires a lot of competence and organisational talent. Not everyone is able to properly coordinate projects to their staff and distribute the demand evenly, but still sensibly. In addition to these skills, a good project management tool is an absolute must. Without it, you can quickly lose the overview, tasks are not completed on time and the whole project is in danger. With SeaTable, we offer a perfect task management tool that enables agile project management and brings your project to a successful conclusion.
What is project management anyway?
Project management involves planning, coordinating, controlling and monitoring projects. A project manager must be able to plan the scope of services of projects, assess the schedule and also the cost planning and also plan the resources and financing for the project in a timely manner. Risks must be minimised and opportunities must be used in the best possible way to achieve the maximum output. There is even a DIN standard that describes the basics and individual components of project management.
For a project to be successful, the goals must be formulated very clearly so that the tasks are planned precisely and the employees are briefed sufficiently. This requires precise task management. During the course of the project, quality control should always be ensured so that no mistakes creep in and it is ensured that the project develops according to the goals. At the end of the project, an evaluation should always take place in order to record successes and exploit potential for improvement.
What are the methods?
There are many different approaches to project management, differing both in the structure of task management and in the whole way of working. Which method is best depends entirely on the project, team and company - Scrum, for example, is not necessarily optimal for every use case.
1. work breakdown structure
The work breakdown structure is one of the classic methods in which the project is divided into different work packages, such as developing and designing a logo for a new brand. This offers the advantage that all tasks and responsibilities are defined from the beginning. Structures are clear and the first step can be taken immediately.
2. scrum
The Scrum method is used for particularly complex projects where not all tasks have been determined at the beginning. In these cases, agile and flexible working methods are needed to plan and implement the progress of the project anew every week. Thus, work is done in a repetitive cycle and new results are presented every week, on the basis of which work is then continued.
3. kanban
You have certainly heard of this before. This method works especially with the visualisation of tasks and is therefore quite popular in task management. In this type of task management, tasks are moved from one column to the next on a visual board in the form of Kanban cards - mostly from "Open" to "Doing" to "Done".
You can see that the methods differ in their approach and that some may be better suited to your project than others. In all cases, however, you need a task management tool that supports you in all task areas to successfully complete your project. There are many different providers for this, all of which have their advantages and disadvantages. SeaTable has the decisive advantage of not only being able to map project management as a flexible software, but also to cover all other processes such as working time recording, CRM or workshop planning with its versatile functions.
As a project management tool, SeaTable is highly flexible and can be adapted to all your individual needs. With SeaTable, you involve your staff in the project, simplify work and communication processes and structure your project from start to finish with the help of clear task assignments and descriptions.
Click here to go directly to the task management template
Holistic task management in just a few steps
SeaTable is a flexible spreadsheet solution that allows you to customise your project management. We have built our base with all the important information needed for a project, such as To Do's, responsible person, deadline, start date and important documents. Different column types can be used to personalise and specify the entries. Thus, you can create a new line for each task that arises and enter the task in detail. This process is comparable to a ticket creation as it exists in some systems.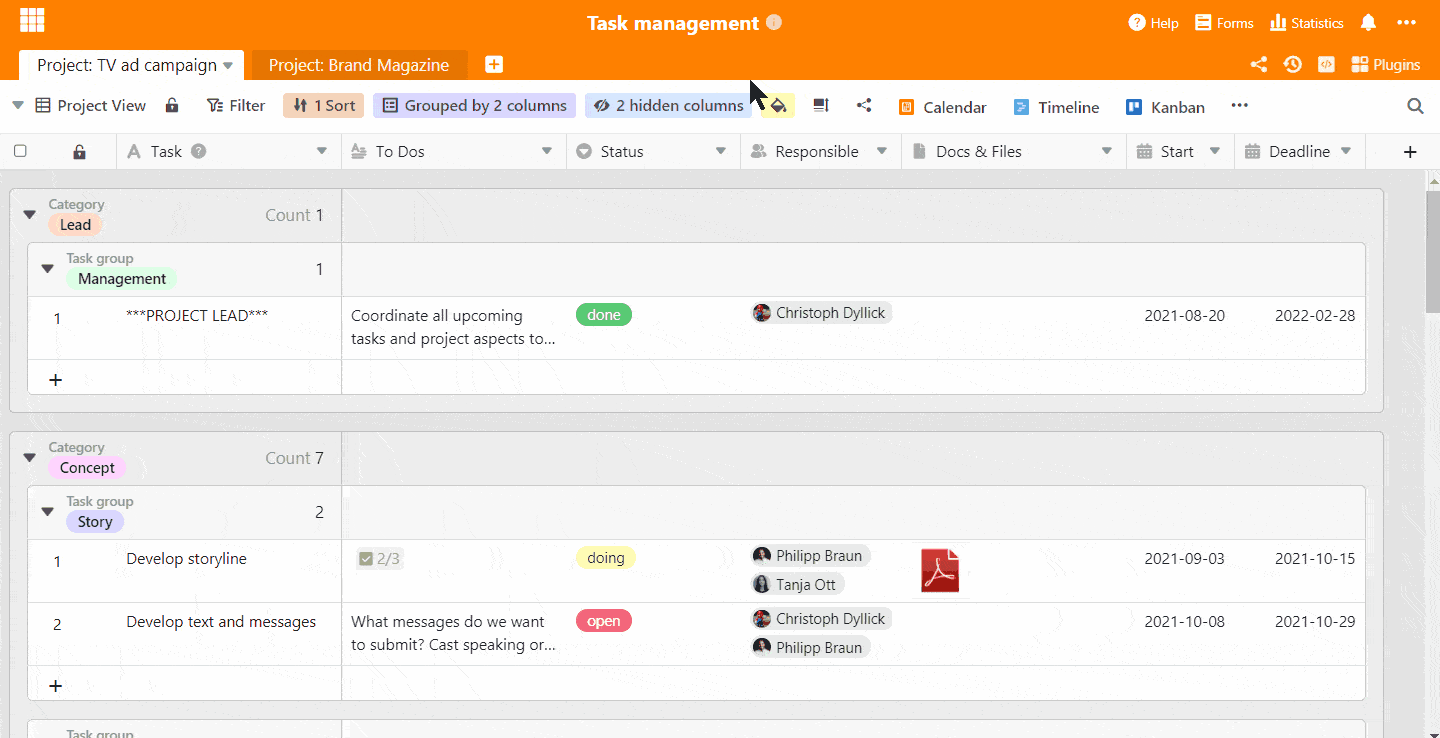 Almost every column type can be used for further structuring and evaluations. For a better overview and classification of the tasks, the table "TV Ad Campaign" was grouped twice by category and task area, and the side project "Brand Magazine" was grouped by task area and priority. However, the task management tables could also be grouped by employee or deadline - just as you need the data at the moment.
Project management in real time
The base for task management can be used completely as a work base in which files can be shared with each other, as SeaTable also functions as a database. All documents and images uploaded there are stored in original quality and can be downloaded for editing by any authorised person. As an online database, all changes and work progress are also synchronised in real time so that everyone is always up to date.
Team communication in one place
SeaTable allows direct communication within the tables, eliminating the need for email communication outside Base. When opening a row, staff can be added to the discussion in the comment field on the right and comments, questions or feedback can be sent. This way, everyone knows exactly which task a question refers to and communication is transparent, synchronous and traceable.
Task management with the Kanban board
For better visualisation and easier handling of task management, the Kanban plugin is just the thing. The integrated plugin works like all common Kanban project management tools and allows tasks to be moved back and forth in the form of cards based on different classification categories, such as status. When a task is done, the person responsible can simply move the card from "doing" to "done" and the task is marked as done.
Other categorisations are also conceivable, such as according to superordinate task packages, for example the design of a website. This way of working is much easier for many, as the tasks are clearly structured and visualised. This also helps to be able to assess a project and the effort involved in it in real terms. Such tools are therefore very popular, especially with smaller teams or companies.
Individual views for each employee
For individual boards for your staff, separate views must be created in advance. This is easily done by setting a filter in which the column "Responsible" must contain the name of a specific staff member ("Responsible has any of XY"). This makes all other colleagues disappear from the view and only the tasks of the one employee are displayed. This function is included in all licences and offers endless design possibilities. If you want to create a view with only open tasks, for example, the filter function is "Status is not done".
The countless filter options offer highly individual views of your task management and you can adopt a different perspective at any time. The good thing is that the different views are all completely independent of each other in their presentation. A filter in view A does not influence the display in view B. However, the change of data always runs synchronously and is immediately implemented in all views.
If the views in our task management template are really only to be seen by the respective employee, they can be shared with everyone individually - this means that only the shared person also has access to this view (this is part of the paid packages Plus and Enterprise). Other people do not see this view. However, this only works if Base is not shared in a common environment.
Always keep an eye on the time: With the timeline and calendar
The timeline plug-in is a great help in visualising the time of your entire task management. With it, you can see at a glance whether you are still on track with your time planning or whether some tasks are already behind schedule. By setting the start date and deadline of the task, it can be perfectly displayed in the timeline. Define which other information should be displayed, such as the person responsible, the exact deadline or the to-dos.
For individual staff views, you create your own views for each staff member in advance. This way, everyone sees their own tasks in their own timeline and knows how much time is left for individual tasks. You can also see how busy your employees are when planning tasks and can reschedule if the workload is unevenly distributed.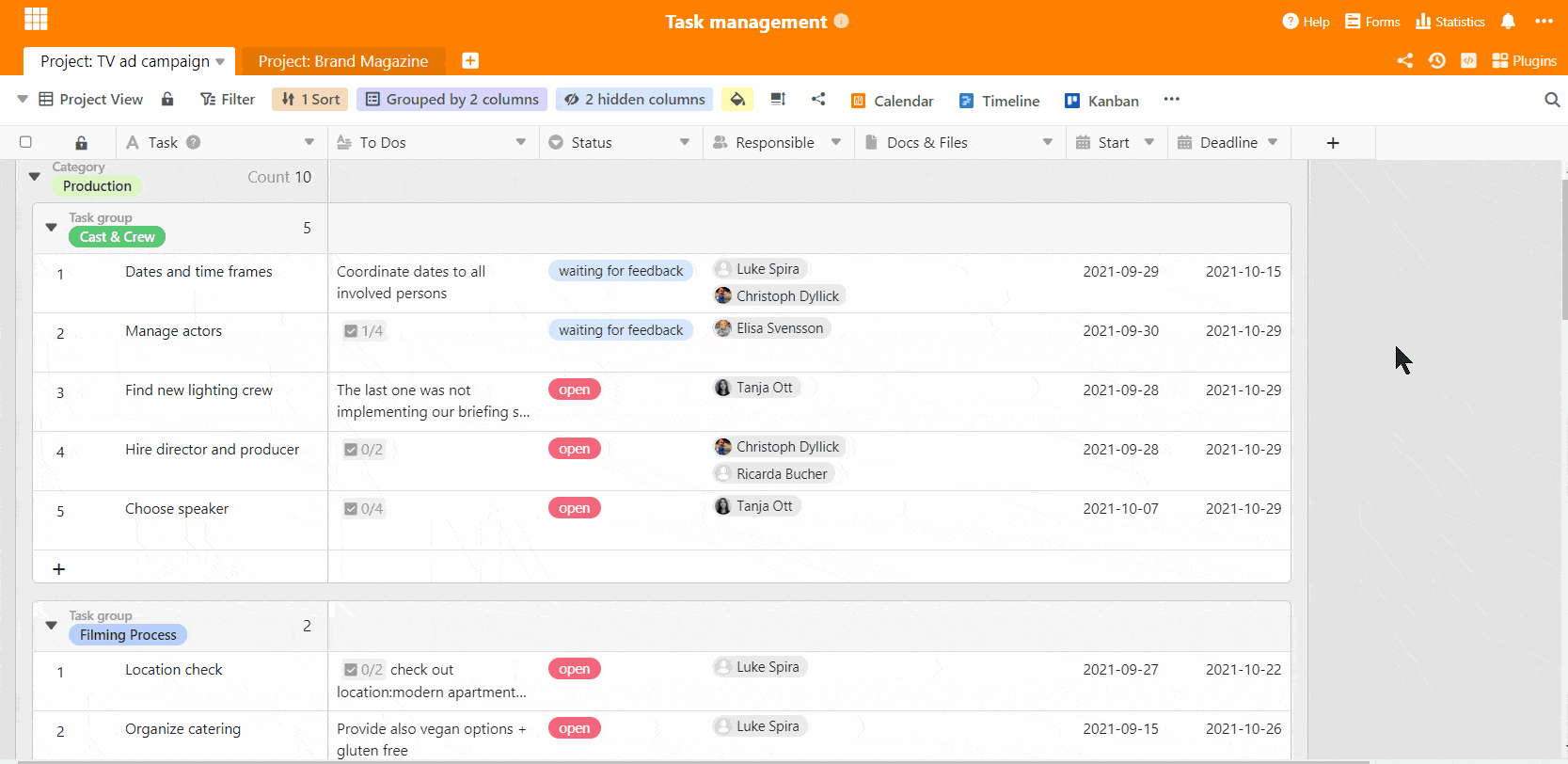 Similar to the timeline plug-in, the calendar plug-in offers a temporal overview of the entire project and all planning stages of task management, but entirely in calendar style. The view by day, week, month, year or entirely in the agenda view enables a day-by-day view of the project steps and shows on which day how much needs to be done. Here, too, the creation of personal staff boards is possible without any problems based on the views created.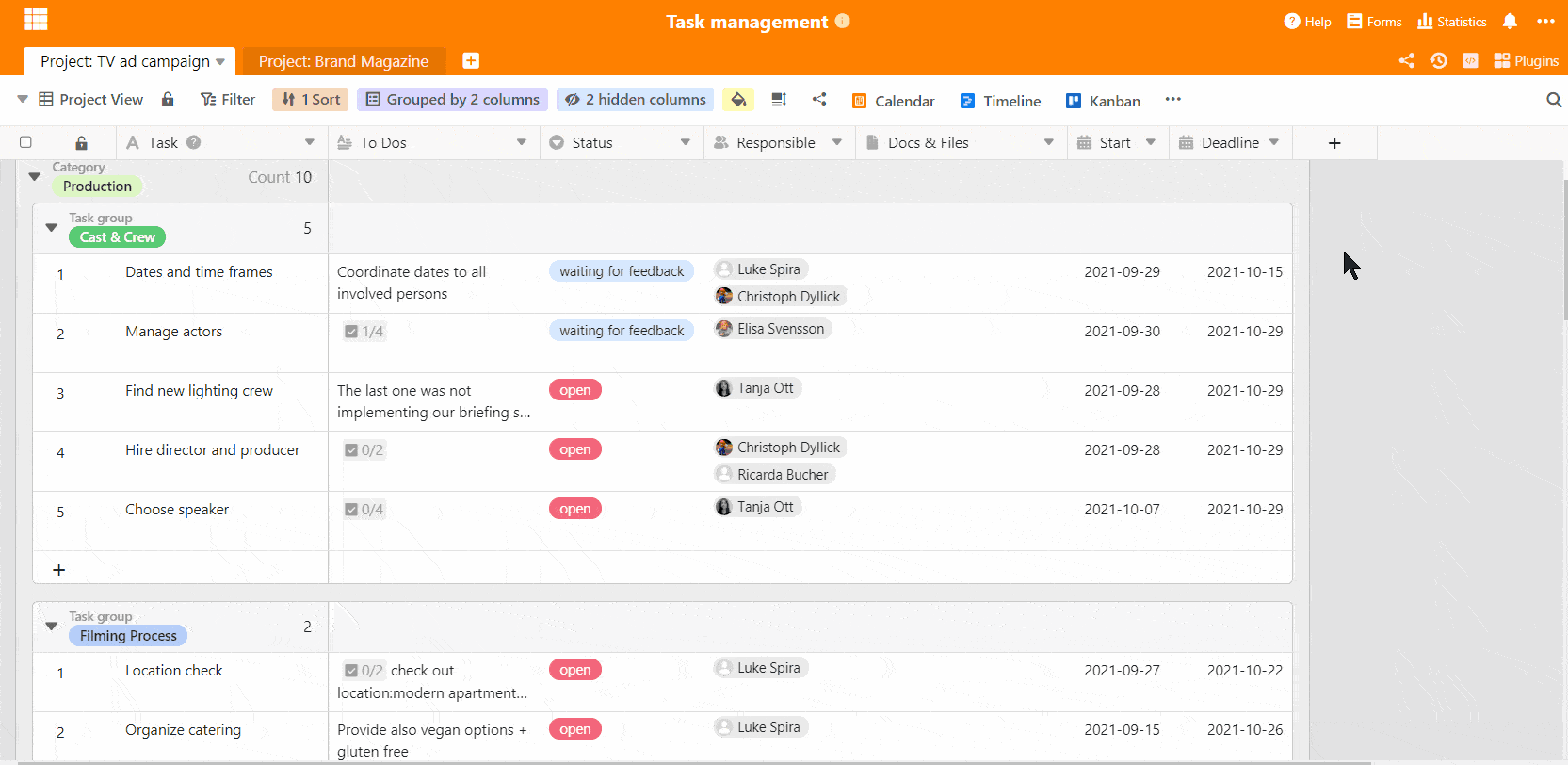 Receive all project progress automatically
Automatic notifications are very important so that all employees are always up to date regarding their tasks and task management. An obligatory check of the base to see if there are any news is therefore no longer necessary. In our template, we have set a notification rule that is triggered by changes in the "Responsible" column. When a task is assigned to an employee, he or she receives a notification directly and automatically.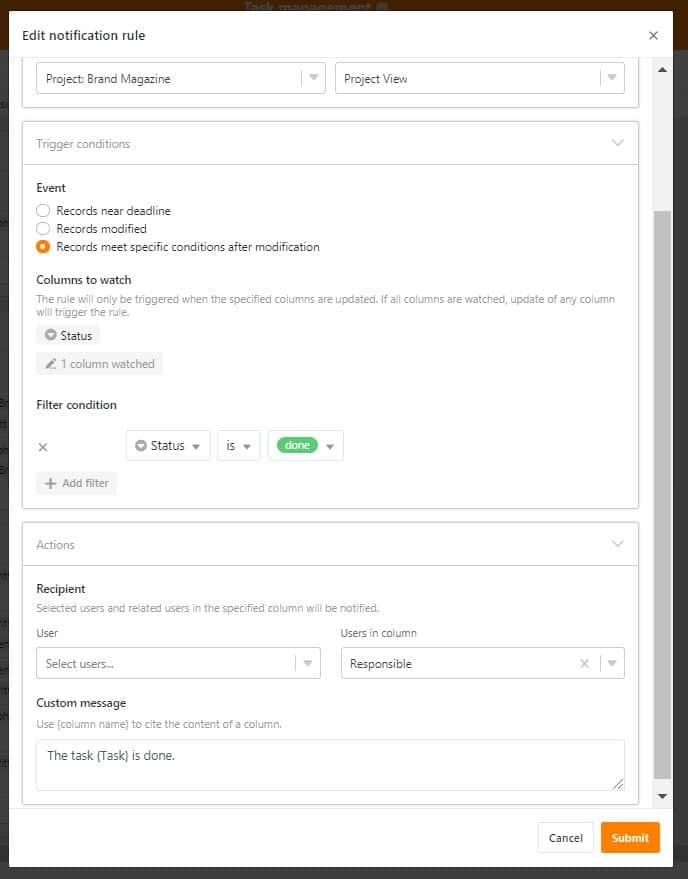 If it is necessary to get feedback from a colleague or the supervisor, one simply assigns the task to this person - again, the rule triggers automatically and the responsible person is informed. This eliminates the need for emails with queries, feedback or work instructions. After processing, the task is then sent back to the appropriate person to continue the workflow.
Comments within a line using the comment function also trigger an automatic notification so that people mentioned are informed directly. If you want, you can create your own rules, for example, when tasks change to the status "Done" to keep an eye on the progress of the project. We have also set a notification rule in the task management that regularly reminds you of upcoming deadlines - so that all tasks are finished on time.
Task management easier than ever
With SeaTable, your task management becomes an effective and time-saving gamechanger in your projects. To use our template, click here. As a spreadsheet software and database, SeaTable goes far beyond entering data: structuring, sorting, delegating, discussing, organising, planning, implementing and finalising - all this and more is possible with SeaTable.
Register for free today and try out one of our many templates.
https://seatable.io/wp-content/uploads/2021/09/project-management.jpg
900
1200
Tanja Ott
https://seatable.io/wp-content/uploads/2020/06/logo.svg
Tanja Ott
2021-09-23 14:46:16
2021-09-23 14:46:16
Perfect task management for your projects with SeaTable