SeaTable - a simple and collaborative alternative to Excel
We are pleased to present you a new product developed by our teamSeaTable !
SeaTable is a simple online database with a spreadsheet interface. It helps you to easily record and manage all kinds of scattered information. APIs and SDKs allow you to SeaTable quickly adapt to your use cases, automate data processing and automate business processes.
SeaTable is created by the Seafile team. The original idea was to extend Seafile with a function for online collaboration tables. Later it developed into a separate project. Seafile is an open source solution for self-hosted file synchronization and sharing that allows you to manage unstructured data. It also helps you SeaTable manage structured data.
We will show some screenshots to SeaTable introduce the functions of so that you SeaTable get an intuitive understanding of. Afterwards two main use cases for SeaTable are presented: as an extended online table and as a compact database.
Rich Text Fields
In SeaTable each column has a specific data type. Many data types are available. Besides common datatypes like text, numbers and dates you can also store images, files, employees, checks and selections. For example, if you select the image type, you can upload the image directly, and the image is displayed directly as a thumbnail. If it's a selection type, the selected option is displayed with a colored label.

For more advanced applications, we also offer column types such as "Calculation formula" and "Link other data sets".
Different views
A view in SeaTable is a combination of various filtering, sorting and grouping rules applied to a table. You can create multiple views, each of which can have different filtering and sorting rules. You can quickly switch between views to view data from different perspectives.
The following figure is a task list table with multiple views. If you only want to view this week's to-do list, using the time perspective as an example, you can switch to this week's Tasks view. If you want to see a list of tasks for this month, you can switch to the Tasks of the Month view.
If multiple people are working together on the same table, you can lock a view to prevent others from making changes to the view rules at will.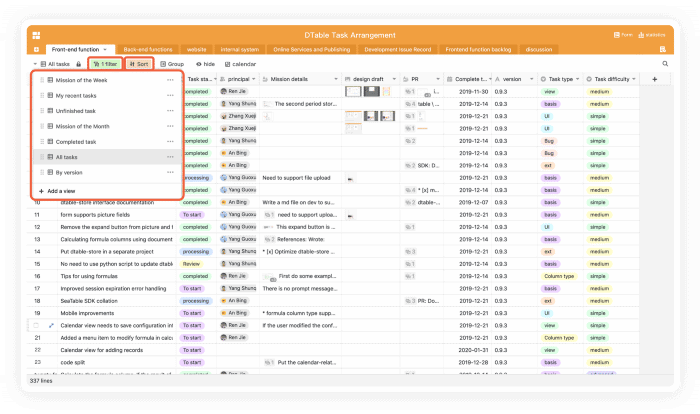 Different visual representations of your data
For the same data, in addition SeaTable to the basic table presentation, there are other ways to present the data, such as the calendar. In the future, you can use the plug-in mechanism to add more presentations to your data.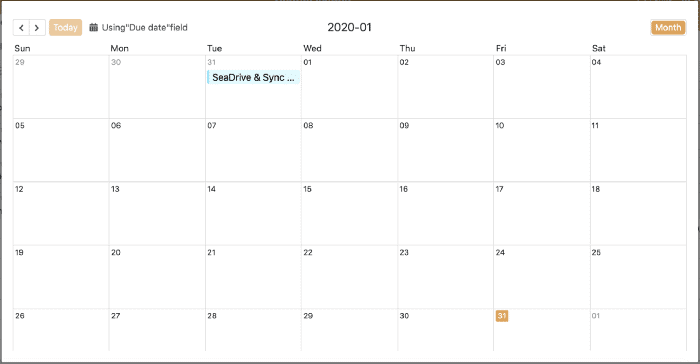 Data analysis and statistics
After recording the data, you can easily create charts and pivot tables for statistics and analysis of the data.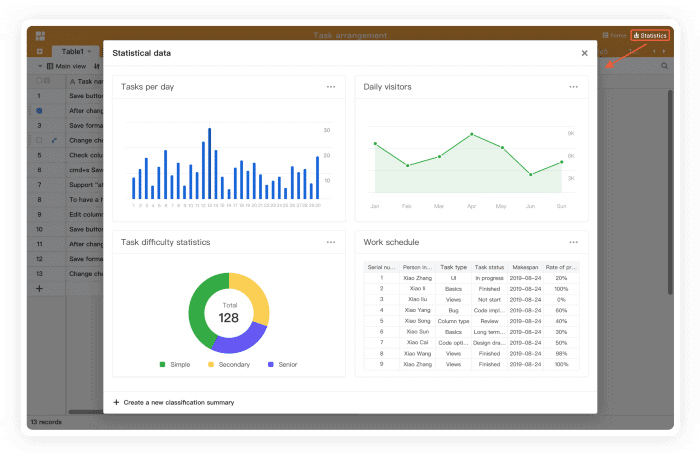 SeaTablethe better online alternative to Excel
SeaTable can be used as an extended online table. For such applications, Excel offers several advantages SeaTable over Excel in terms of its data management and analysis functions. These are in particular ...
All structured data can now be stored on a single platform instead of being spread across many Excel spreadsheets. It allows easy referencing of data between different tables and their analysis.
Because each column has a specific data type, you don't have to worry about formatting problems when entering data. The data entered into a table is guaranteed to have the correct format. For example, you no longer have to worry about the inability to perform statistics, because a table contains many "100 USD" numbers.
Users can now store files and images in a table, not just text and numbers. It helps users manage files in a more structured way. It becomes possible to attach unlimited metadata or tags to files by adding more columns to the table.
With SeaTable powerful data analysis functions are very easy to use. Users can use views to view data from different perspectives. Users can also use the statistics feature to create professional charts with just a few clicks. In contrast, the learning curve for most users is very steep, although Excel's data statistics and visualization features are also very powerful.
SeaTable as a lightweight database
The use of SeaTable as an advanced online table is only part of the potential. SeaTable is also a compact database that allows you to automate business processes faster, cheaper and more visually. If you SeaTable use it in this way, it becomes an even more powerful tool.
SeaTable provides some functions that allow you to use it as a database:
Collecting data from users with forms
Import data from other business systems using the Restful API. Then analyze the data with the intuitive and powerful data visualization capabilities ofSeaTable
With SDK you can write a small program to monitor data changes in a base or table. When certain changes are detected and reported to your program, it can process the data and produce results based on the data. The results can also be written back to the table.
With the power of you don't have SeaTable to develop custom applications for some use cases. The spreadsheet interface of SeaTable can be used as a user interface for data entry / display. The data can be processed by background tasks written with the SeaTable API or SDK.
A simple example is a static website. If you have a static website, you want to display some dynamic data now. By storing the data in SeaTable and displaying it on a website, you don't need to manage a separate database. The dynamic data can also be easily SeaTable edited in the user interface of . If you want to collect simple feedback about your website, you can create a form and add a link to the form on your website.
Another simple example: Suppose you have an internal application. This application automatically generates a Word or PDF document (such as invoices) based on the data entered by users. You can write a background script using the SDK. The users enter the required information in a table. Your script hears new data from the table. Whenever new data is entered, your script generates the document and saves it to a column in the table. The user can then download the document. With SeaTable you no longer need to manage a complete application, just a small script.
We will discuss this in more detail in the following articles.
https://seatable.io/wp-content/uploads/2020/07/seatable-lightweight-database-spreadsheet-interface.jpg
800
1200
Christoph Dyllick-Brenzinger
https://seatable.io/wp-content/uploads/2020/06/logo.svg
Christoph Dyllick-Brenzinger
2020-05-02 11:55:02
2021-02-27 14:47:16
SeaTable - a simple and collaborative alternative to Excel