You no longer need individual tables from your bases? Then you can delete them with just a few mouse clicks. It's that simple: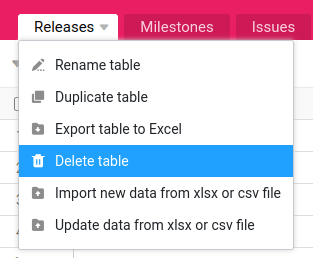 In your Base you will find all tables of the Base displayed as tabs in the upper left corner.
Click the triangle icon at the end of the name of the table you want to delete.
Click Delete table.
Confirm the deletion by pressing Delete again.
Note
The deleted data is not lost, but remains in the Base Recycle Bin indefinitely.
Frequently asked questions
Is it possible to recover deleted tables?
In SeaTable you don't need to be afraid of deleting. Even if you accidentally delete a table, row or column, you can easily recover it. You can find your deleted data in the Base recycle bin.
I can not find the option to delete the table
If there is only one table left in a base, the Delete table option will not be displayed. Also, you must have the necessary permission to delete a table.