A single-selection column is ideal if you want to assignexactly one option to your rows from a list of options to be defined. The options are given colorful labels that you can use to categorize your records and organize tables clearly.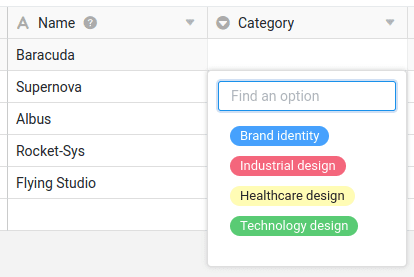 Create a single selection column
Creating a single-selection column is child's play and done with just a few clicks. For detailed information, see Add a column.
Click the [+] icon to the right of the last column of any table.
Give the new column a name.
Select Single selection as the column type.
Confirm with Submit.
Add options
You can add new options to a single-selection column in several ways. Learn all about it in the article Adding options to a single-selection column.
Currently, 24 colors are available to visually highlight the respective options.

With an Enterprise subscription, you also have the option to create your own colors for your single-selection options.
Set default value
When creating a single selection column, you have the option to set a preset default value. The default value isautomatically assigned as an option to each new row .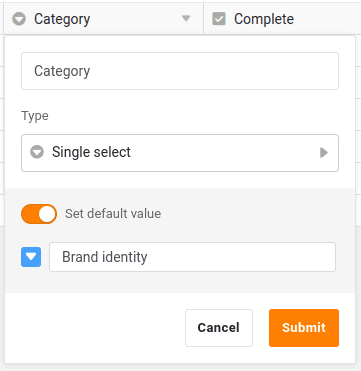 Single selection or link column?
If you wish to be able to store additional information for each selection option, you should consider converting the single selection column into a link column. Then you can create a complete record for each option in a separate table.
More helpful articles on the topic of single-selection columns