Within a group, there are a total of three different roles: Owner, Administrator and Member. Depending on their role, which can vary from group to group, users are authorized to perform a different number of actions. The following table gives you an overview of the permissions that each role has.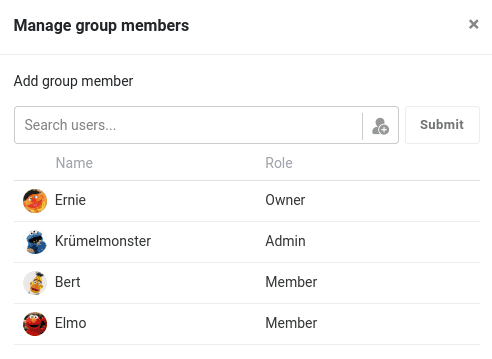 All permissions at a glance #



Owner
Admin
Member
Create new group
Work in a Base
Group management
Rename group
Manage members
Transfer group
Leave group
Delete group
Base management in a group
Add a Base or Folder
Edit base
Manage bases of a group in the trash
Release bases
Add Bases to Favorites
Delete bases
Move bases to a folder
Copy bases
Export bases
Set password for a Base
Access and restore snapshots of a base
Advanced features (API tokens, webhooks, attachments management and Seafile connect
What groups and members do you see #
It is actually self-evident that every user only sees the groups to which he is registered as a member. Groups and their bases, to which you do not belong, are of course not displayed to you.