Deleted tables, rows and columns can be found and restored at any time in the Recycle Bin of the respective Base. You don't have to be afraid of losing data, because within Bases deleted tables, rows and columns remain available indefinitely.
Retrieve tables, rows and columns from the recycle bin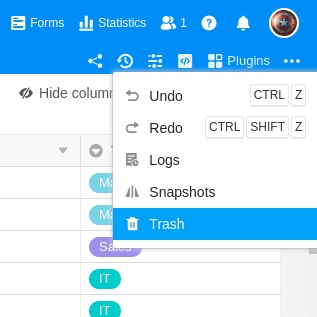 Click Versions in the top right corner of the Base options.
Open the recycle bin.
In the recycle bin you will now find all the tables deleted within Base, rows and columns. With a click on Restore you can retrieve them from the recycle bin.
The Base Recycle Bin displays a list in antichronological order - that is, the most recent deletions at the top. You can see the deleting user, the name of the deleted table, column or row (the name of row is the value from the first column of the deleted entry) and a time indication how long ago the deletion took place. If you click on Restore, the deleted data will be immediately inserted back into the base or table.
Frequently asked questions
Is it also possible to undo the last entries?
Of course, you have the possibility to undo your last changes. Read more under Undo actions.
Are automatic backups of my base made?
Is there also the possibility to make a full backup of a base?

Yes, this is also possible in SeaTable using the export function. Read more about this under Data import and export.