With an invitation link, you can give read and write perm issions for a Base to people outside your team, but they must log in to SeaTable.
You can learn how to create an invitation link here. Since the link can be copied and forwarded as often as you like, it makes sense to set a password and an expiration date as protective measures.
In the team administration, you can view a list of all invitation links for a base. In addition, as a team administrator, you can (de)activate the invitation link feature for other team members. In this way, you prevent or enable team members themselves from sharing bases with external third parties.
To allow the base sharing via invitation link
Switch to the team administration.
Click on the Team menu item.
Click on the Settings category.
Activate the Allow via invitation link slider here base sharing .
Effects of the active invitation link function
If you allow base sharing by invitation link, your team members can create as many invitation links as they want and send them to people outside the team, who can use the links to view or even edit the corresponding bases.
An invitation link can also be duplicated as many times as you want and gives everyone who has access to the link access to the contents of Base. If you want to restrict this sharing option, then uncheck the Allowbase sharing by invitation link slider. You will see the following message for the links: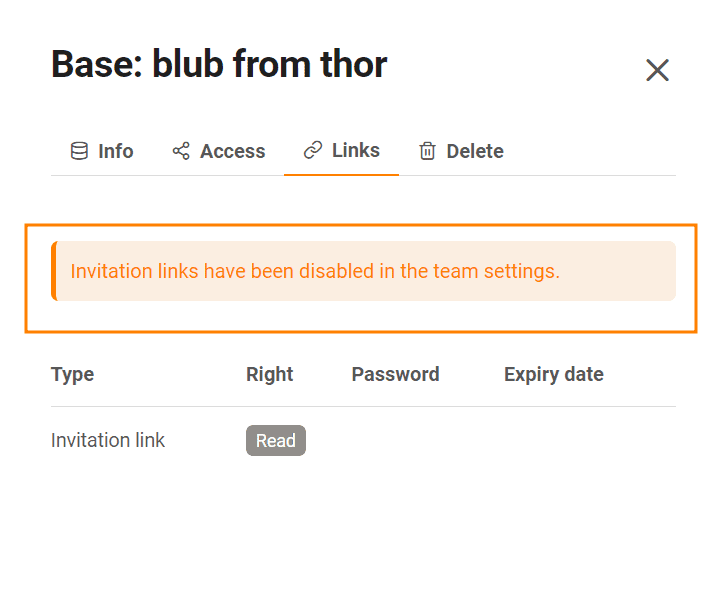 Any invitation links previously created by the team will no longer work. You can still create invitation links, but the recipient will not have base access through them.
Attention for invitations already accepted
If external users have already accepted the invitation via link, they still have access to the shared base. You can view all usage permissions in the respective base under shares.