In SeaTable you have the possibility to duplicate existing Bases. You can create a copy of your base either in one of your groups or in the My Bases section.
Duplicate an existing Base #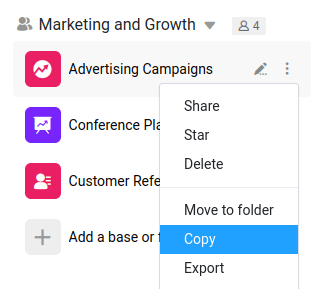 Switch to the SeaTable home page.
Hover the mouse over any base you want to duplicate.
Click the three dots to the right of the Base edit icon.
Click Copy.
Select My Bases or the group where you want to save the copy of the base.
Confirm with Submit.
The duplicated base is now created at the desired position.