The online spreadsheet for ALL your tasks
Tables are an indispensable part of everyday work. Excel tables - or Excel spreadsheets - are omnipresent. In recent years, online spreadsheets have become more and more widespread due to their advanced features, replacing the classic desktop-based spreadsheet applications. Now a new generation of web spreadsheets is on the starting blocks: SeaTable & Co. opens up completely new fields of application with new functions.
Excel goes to the cloud: online tables
The times when a table was synonymous with an Excel file are over! Online spreadsheets are now the measure of all things. Excel Online, Google Spreadsheets and other Excel alternatives are web spreadsheets that are hardly lagging behind their traditional desktop counterparts when it comes to data analysis and visualization. In terms of usability and collaboration, they are now ahead of them. Access has also been democratized: Google Sheets and Zoho Sheet can be used permanently and free of charge.
|   | Desktop spreadsheet | online spreadsheet | Next Generation Online Spreadsheet |
| --- | --- | --- | --- |
| Formulas | | | |
| Diagrams | | | |
| Pivot tables | | | |
| Plug-ins/Add-ins | | | |
| Platform independence | | | |
| Real-time collaboration | | | |
| Versioning | | | |
| Web Forms | | | |
| Application Views | | () | |
| Extended data formats | | | |
| Database functions | | | |
The triumphal procession of online tools is not by chance. The browser-based online tables offer functions that are unthinkable with local spreadsheets. Anyone who has ever worked simultaneously with colleagues on one and the same table no longer wants to do without this feature. Changes made by an editor are immediately displayed on the screen as if by magic for all co-authors. It no longer makes any difference whether you are a Windows or Mac user or whether you work on the spreadsheet from your workstation at work or on the move. Regardless of device and location, data is stored in the cloud, from where it can be easily shared with others.
The new possibilities do not end with the topic of cooperation! Taking advantage of the possibilities of the cloud, they also offer new ways of data collection: With a web form, data from external third parties can be collected, for example in a survey. The data is written to a table, where it can be evaluated with all available analysis tools. Via API, other applications with widely used web technologies can query, modify and write new table data.
Online spreadsheets have enabled new forms of collaboration and made existing processes more dynamic. Web spreadsheets offered previously unknown flexibility and efficiency in teamwork. On the other hand, classic tables on the Web have only slightly expanded the use cases of tables. Online tables, like classic Excel sheets, organize numbers and text in flat spreadsheets, perform calculations and visualize numerical data in charts. In short: With online tables you do today what you did with normal tables 20 years ago. A new generation change is imminent!
Next generation online spreadsheet
The online spreadsheet SeaTable stands for this generation change. Like the online spreadsheets from Microsoft, Google and Zoho, it offers a SeaTable variety of evaluation tools and visualization options for the analysis of numerical data as well as extensive collaboration functions. In addition, SeaTable however, there are many things that make it different from the current market leaders and thus enable new and exciting fields of application.
Extended column types
Have you ever wished you could store a file or an image in a table? Wouldn't it also be practical to be able to format text in a cell extensively, with paragraphs and graphic elements? And how can you validate input when one or more predefined values have to be entered in a cell? All three use cases can be implemented neither in a classic Excel nor in a modern online spreadsheet.
Let's SeaTable go! In SeaTable addition to numbers, text and formulas, files, images, references to other users, single and multiple selection fields and many other types of data can also be stored. This way you have all data consolidated in one table. Storing different data in different places is SeaTable a thing of the past.
Application-oriented views
Excel and Co. are powerful tools for the evaluation and visualization of quantitative data. Who isn't thrilled when a pivot table turns a huge data set into a manageable result list in fractions of a second or when a nice chart brings important results into shape. We all know: A picture says more than 1,000 words (or numbers).
However, online spreadsheet editors à la Google Sheets and Excel Online reach their limits in the collection and analysis of non-numerical data. And who doesn't do that? Have you ever collected address data in an online spreadsheet? Do you know cases where project tasks, deadlines and responsible persons are managed in a web table?
Wouldn't it be nice if the data in the online table could not be evaluated quantitatively either? For example, if appointment data could be displayed in a calendar or address and position data on a map? Wish fulfilled! In SeaTable addition to the classic spreadsheet editor view, you have other display options that Google Sheets alternatives do not offer!
Imagine that you have stored tasks, dates and responsibilities in an online table. With SeaTable you can display your project data in a Gantt chart with a single click. You can view images saved in a SeaTable table clearly in a gallery view. With SeaTable not only do you have all the data in one place, you also have all the tools you need to evaluate it in a meaningful way. SeaTable is therefore much more than an online table. It is a project management tool, an asset management tool, a recruiting tool and much more.
Database functions
In any spreadsheet, whether in a traditional table or an online spreadsheet, there are cell references. This great invention is the basis for formulas and more complicated calculations such as those needed in a business plan.
In SeaTable addition to cell references for formulas, there are also references to data records in another table. This allows you to map SeaTable relations between data in a way that is otherwise only possible in database applications. These relations can be 1:1; 1:n/n:1 and also n:m. SeaTable administers the relations inconspicuously in the background. SeaTable is therefore, in other words, a relational database with an intuitive spreadsheet interface.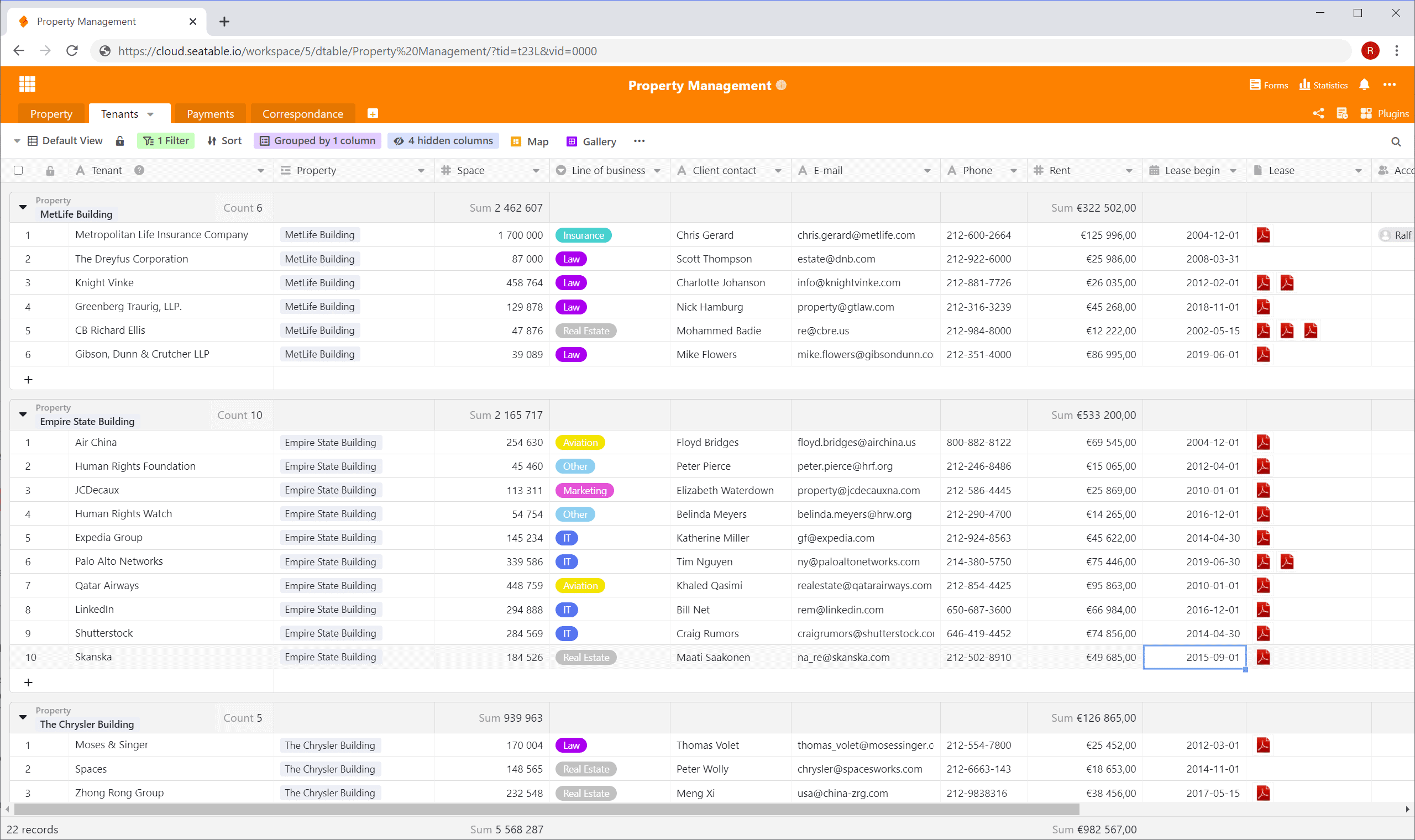 Imagine a property management company whose task it is to manage properties and their tenants. In this case, the database functions provide a good overview. One table records the objects and their characteristics, a second table contains the tenant information, a third table is used to enter the monthly payments, and a fourth is used for ongoing communication. You use the database links to relate the data records. Evaluations across the table boundaries - with SeaTable no problem.
There are supposed to be users who can display the case described above or similar cases in a normal online table. SeaTable makes it in any case easier and more structured and thus more efficient. Use cases, for which you needed large and complicated database applications up to now, are also possible with SeaTable very uncomplicated! As an online table with database functions can SeaTable be used as an issue tracking system, billing system, customer relationship management (CRM) and archiving solution.
SAAS or self-hosted
Functional is SeaTable therefore much more than just an Excel Online and Google Sheets alternative. And you don't have to pay any more: Individuals and teams can use it SeaTable permanently for free - sign up and go. The Free subscription includes all the user functions that are SeaTable offered. You can manage your team easily via the web interface. You can also import data into SeaTable Excel Import.
The many templates make it SeaTable very easy to get started and use. Search for your use case in the template database and customize it according to your needs. In no time you have an online table that does exactly what you expect.
Those who do not want or are not allowed to use cloud solutions can SeaTable also host on their own server. If you're looking for a self-hosted airtable alternative, this is SeaTable the one for you. The Community Edition of SeaTable is ideal for small groups - quickly installed via Docker Container and thanks to its open source components it can be used free of charge. Enterprise customers will enjoy the Enterprise Edition, which provides advanced features for enterprise use.
https://seatable.io/wp-content/uploads/2020/08/seatable_excel_generationswechsel_1600x1100.png
1100
1600
Ralf Dyllick-Brenzinger
https://seatable.io/wp-content/uploads/2020/06/logo.svg
Ralf Dyllick-Brenzinger
2020-08-26 16:33:35
2020-08-26 16:41:10
The online spreadsheet for ALL your tasks