With the help of the rows-format tool you can set colored markings at the beginning of lines. The color marking of rows serves the quick identification of certain data sets. This is not to be confused with coloring cells, which allows you to highlight individual cells.
The rows-format tool
In the view options above a table you will find the following icon:

After clicking on the rows-format tool, you can choose between three options for color highlighting:
Use single selection column
Use rules
Highlight duplicates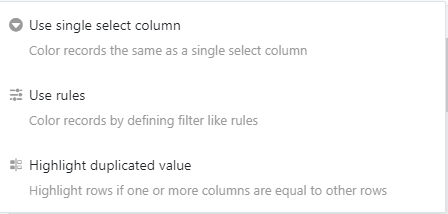 Use single selection column
For the option Use single selection column you need a column of this type in your table. This way you can mark each row at the beginning of the row with the color of the respective option entered in the single selection column.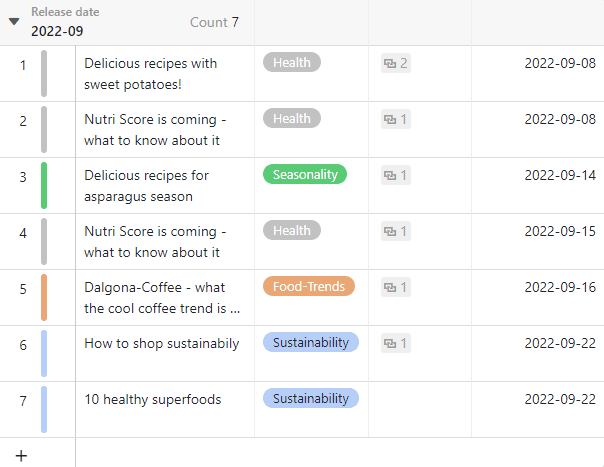 Create a single selection column
Learn how to create new single selection columns
here
.
Use rules
The Use rules option allows you to set conditions for color highlighting.
Click on the colored triangle symbolto change the color of the marker.

Specify to which of your Columns the condition should refer to.

Decide for the Condition type.
Selection of condition types depending on the column type
Please note that what options you have to choose from in the conditions depends on the type of the selected column.
Use rule example
In this example, all rows that are marked as completed in the "Published" column are to be marked. For this purpose, the column "Published" was selected, the condition "is" was used and it was specified that the rows marked with a check mark should be marked.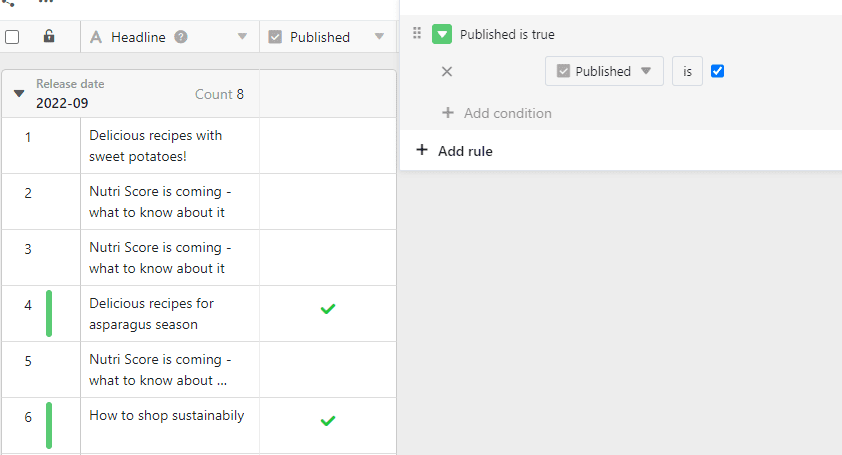 Highlight duplicates
rows with one or more identical column values can be highlighted using the Highlight Duplicates option. To do this, select the column you want to check for duplicates. This way you can easily identify duplicates in your table and correct or delete them if necessary.