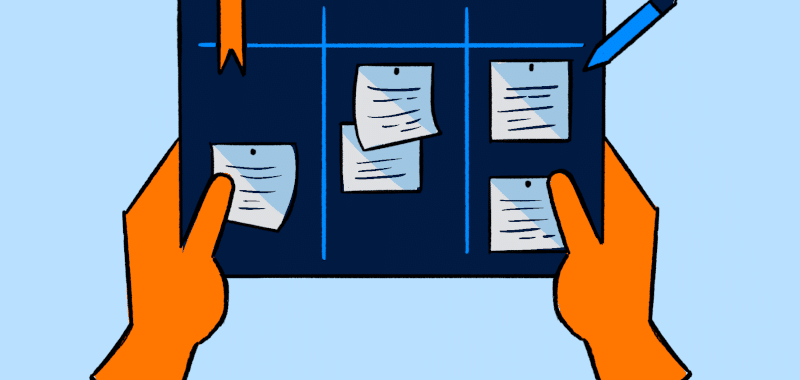 There are countless tasks to manage in project management - the software Trello is often used for this. It is not surprising that there are several Trello alternatives on the market that have made use of the principle of the Kanban method. Well-known are, for example, Asana, Jira, or Monday.
SeaTable is also a very good and efficient alternative to Trello. The versatile software solution with the Kanban board is a Trello alternative suitable for everyday use and also suitable for many other use cases.
The popular Kanban board
The Kanban method is an agile project management method and is known through the field of software development, where tasks are visualised and resources are conserved to increase the efficiency of workflows.
But even in companies that do not develop software, Kanban is often used as a project management method. There are three basic columns in the Kanban board that visualise workflows in their status:
To Do: This column contains all tasks that are still pending and need to be completed.
Doing: This column contains tasks that correspond to the status "Work in Progress" (WiP for short), i.e. are currently being worked on.
Done: This column contains all tasks that have been completed and can be checked off.
These three columns are then provided with so-called Kanban cards on which the respective tasks are listed in detail. If cards remain in Doing Mode (WiP) for too long, something is wrong and adjustments should be made.
Trello is one of the best-known tools when it comes to Kanban. But even this software has its limitations in terms of functions and presentation. Therefore, some software solutions have established themselves on the market as Trello alternatives.
SeaTable is the Trello alternative
As an innovative and efficient spreadsheet software, SeaTable works with a Kanban board plugin that allows working with the Kanban method without compromises and makes the software a flexible Trello alternative. Working with SeaTable is intuitive and with the help of the plugin and the flexible integration, individual Kanban boards can be used for daily project work. The advantage of SeaTable compared to Trello: With SeaTable, you can cover countless other use cases that arise in your company on a daily basis, such as recording the working hours of your employees, creating offers with your CRM system or organising your product management. SeaTable can thus be a comprehensive solution for your company in the form of a flexible business software!
In our template, we have already created a Kanban board as an illustration and have included other useful and efficient functions. In the following, you will learn how these functions are built and how you can maximise the efficiency of your workflows by using SeaTable.
Click here to go directly to the Trello Alternative template
Next generation project management
With the Kanban plugin, SeaTable opens up a multitude of new application possibilities and thus joins the list of innovative Trello alternatives. Our example is a project for the relaunch of a website. In the conventional view of SeaTable, you create table columns for your project in your base as usual, which contain the corresponding information. One row corresponds to a Kanban card.
In our case, we have already populated the table with tasks and information and provided them with a start date and deadline. We will go into the linked column "Tickets" in more detail later.
The individual tasks are assigned to the responsible employees. In addition, files can be shared and exchanged completely without loss via Base, because SeaTable is also a database that can replace conventional file storage via local servers or other cloud services such as OneDrive or Dropbox. Another plus: your data is stored on German and European servers in compliance with data protection laws.
The Kanban board becomes the centre of your work
With the status column we come to probably the most important column of our Trello alternative: The single-select column "Status" contains the status categories "Open", "Doing", "Done" and "Waiting for feedback". In classic Kanban, the fourth option does not exist, but such additional status definitions prove to be practical, as they provide more information about the current situation. This column is the linchpin for the Kanban board, which is built on these status definitions and with which the classic Kanban structure is created.
You can determine yourself in the settings how your board should be structured and which information should be displayed. With a click on a board, the task opens in the row view and all details can be viewed. If one of your employees starts a task, they can simply move it from the status "Open" to "Doing" by dragging and dropping - just like other Trello alternatives do. Of course, the status does not have to be the grouping feature, but you can also structure your board according to employees, for example.
Via "Add a new record" you can add a new task without having to leave the Kanban board. Even more: You can create several different boards and also use different tables as a basis for them. It becomes interesting when you want to create boards for your own employees without messing up the rest of your project.
Individual Kanban boards for your employees
SeaTable, as the only Trello alternative so far, has an advantage of creating multiple Kanban boards for different occasions without changing the basic structure of the board and the tasks. This is possible in SeaTable through the creation of multiple views, as the Kanban plugin uses the views of Base as a source. Thus, individual Kanban boards with their own tasks can be created for each employee by creating a separate view for each employee in the source table.
You can do this easily with the help of the filter function: Here you select the employee column, set the rule to "has any of" / "contains one of" and then select the employee. With this view, you can then create a Kanban board by selecting this view. Of course, all changes in this Kanban board are also changed in all other boards and views. All employees always work on the same data, no matter which view or board you are working on. SeaTable saves all information synchronously and in real time.
Timeline for better scheduling
A particularly handy feature of SeaTable that adds additional visual structure to your project is the Timeline plugin. As a genuine Trello alternative, SeaTable has this powerful plugin that gives you exactly the view you need in just a few clicks. Here too, as with the Kanban plugin, you choose which table and which view is used. You choose which information from the table should be displayed in your timeline ("Show columns"). You also determine which display should be selected: Yearly, monthly or daily.
In the example, we have visualised the complete project over the entire project duration and included the tasks and to-dos. Important for a visually correct representation in the timeline is the start and the deadline of the task, for which a date must be set, or you determine a fixed number of days by which the task must be completed with the duration column. Without this information, the timeline cannot display the tasks and their time windows correctly.
The timeline provides an excellent overview of the scheduling of projects, tasks and responsibilities. Status was selected as the colour definition in the example. This allows you to see at a single glance which tasks, starting from the current day (blue vertical line), are within the time frame or whether a task has exceeded its deadline.
This timeline gives you a sense of how to integrate tasks into your schedule in a sensible way so that there are no task jams and overlaps. For example, a programmer can only implement a design draft once he has received it from the graphics team. The programmer's task must therefore be planned after the completion of the design draft.
Timelines for individual employees
So that your employees do not have to read their tasks from a huge timeline, you can again create your own timeline views in this plugin. The practical thing: Here you use the views that you have already created for Kanban! You don't have to do anything extra for it. This way, your employees can see exactly which of their tasks are currently "in-time" and which ones they might be behind with. Tasks can even be edited within the timeline, so you don't have to leave the view. This is an extremely practical feature that makes SeaTable very valuable as a Trello alternative.
Each employee can also design this view for him or herself as he or she needs it. Does he need the exact deadline, but the steps in the project flow are not important to him? No problem! Using "Show Columns", each column can be shown or hidden without affecting the visual representation and the data in the table.
Team communication in the table
Team communication is an important part of project management, especially when there are several interfaces in the team. Team communication is already a fixed component in SeaTable in the individual rows and thus also fulfils this requirement as a Trello alternative. In the comment area, all employees can write a comment and even use the @ to address specific employees. They are then notified of the comment by e-mail and can react immediately. This eliminates the need for project communication via email or chats - in SeaTable, communication is also fully documented and traceable for everyone.
Ticket system for problems
In every project there are problems that actively hinder a work step and therefore need to be solved. This is where the "Tickets" table comes into play, which is linked to the first table and which we mentioned briefly before. With this, we expand our Trello alternative with a completely new function.
This table is used to report problems by creating a ticket and assigning it to a responsible employee. This person is immediately informed by mail through a predefined notification rule and can take care of this problem directly. In familiar Kanban fashion, the ticket is set to "Doing" and finally to "Done" as soon as it has been solved. Here, too, the Kanban plug-in can be used for better clarity.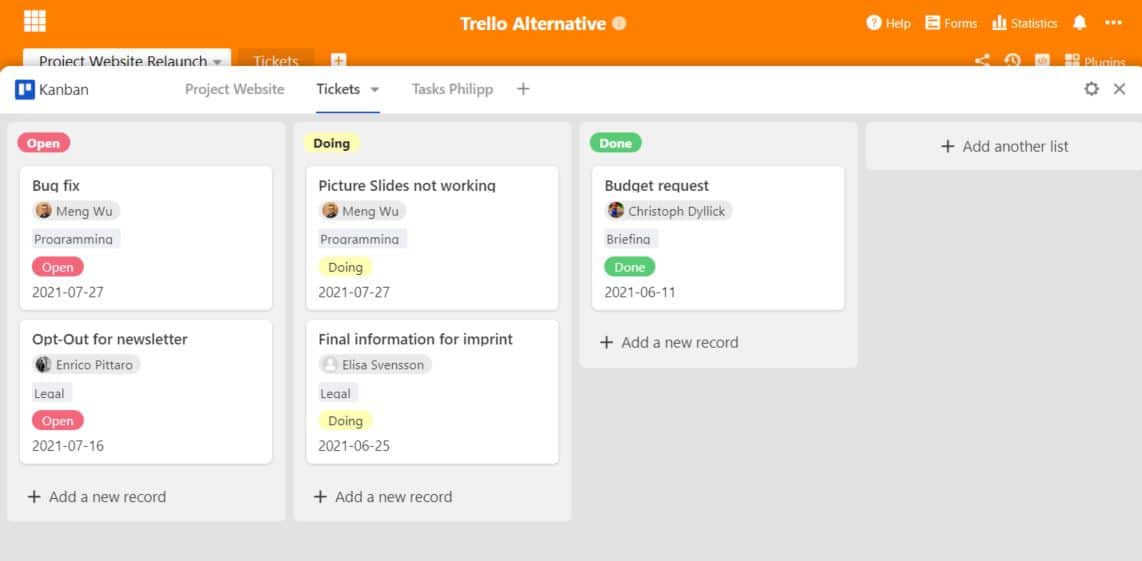 Problems can be addressed immediately with a ticket system and the Kanban board.Integrating and linking an integrated ticket system in such an uncomplicated way is something that hardly any Trello alternative has been able to do, not even Trello itself. SeaTable combines all data at a central collection point and thus prevents a confusing list of different boards.
Automatic notifications
Of course, SeaTable also has notification rules, which every Trello alternative should have. You can set up automatic notifications for various things, for example, as in our example 1, when changes are made to the status of a task, or as in example 2, when the deadline of a task is approaching. This way, you are guaranteed not to lose sight of tasks.
Share different views
So that your employees do not get confused by all the different views, you can specifically release the employee views only to the corresponding employee. This way, your employees only see the general view and your own view, as well as the Kanban board and the timeline. Note: For this, you must also release the Project View separately! If you release the entire base, you can no longer apply restrictions and the case of "everyone sees everything" occurs. The function of individual view sharing is not yet available in any Trello alternative.
Convinced?
SeaTable as a software solution is not only an excellent and flexible Trello alternative, but also a multifunctional software tool with an incredible number of practical functions. So by using SeaTable, you not only have an alternative to Trello, but you can use SeaTable for countless other use cases at the same time! Our spreadsheet solution includes versatile functions that you can use in marketing, project management, human resources, sales and much more. With a SeaTable licence, you have many topics covered at the same time and can do without the cumbersome use of different tools.
Register today and download our template to your SeaTable Cloud!