Bases in SeaTable always belong to a user or a group. Therefore, you can share bases either with groups or with individual users. This article highlights the release of a base to an entire group.
Here you can decide individually for each base whether it is a Reading Release or around a Read and write enable should act.

Note
When you grant read and write permission to a group, all members of the group can see and edit the contents of the base. However, they cannot install plug-ins or share the base with other users and groups.
You can share your Bases both from the Home screen and within a Base.
Share a Base from the Home Page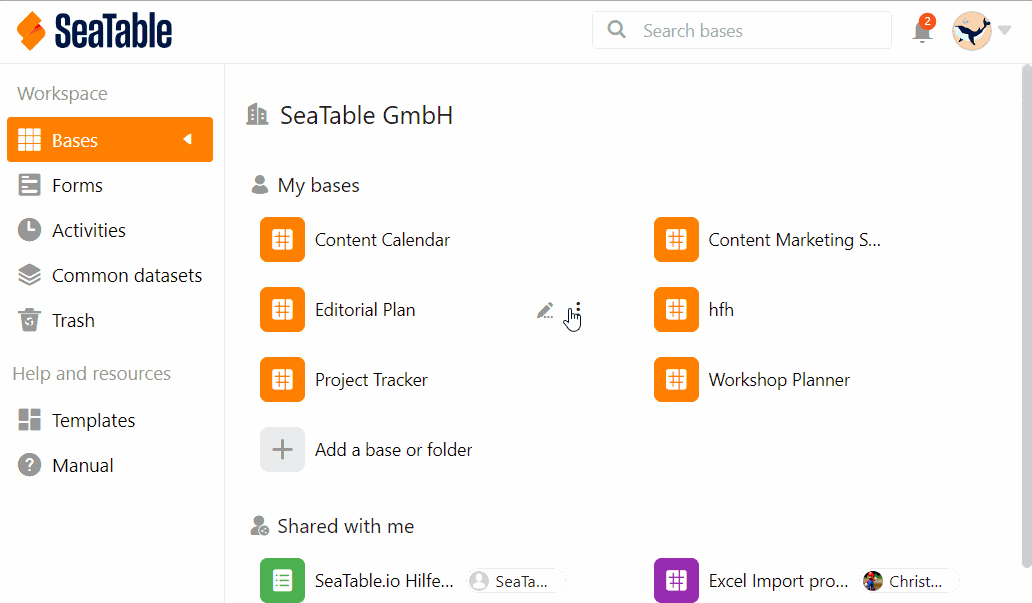 Go to the home page of SeaTable.
Move the mouse cursor to the base you want to split and click the three dots that appear on the right.
Click Share.
Go to Release for group.
Select the desired group to which you want to share the Base.
Set whether you want to assign read and write perm issions or read-only permissions.
Click Submit.
Release within Base

If you are currently in a Base, you can also create a share without having to switch to the Home screen. To do this, click the Share icon at the top right of the Base options. The window that opens to create a share looks just like the one on the Home page. Just follow the above clicking instructions starting from step 4.
Limitations
You can only share bases with groups you are already a member of.
Bases that you have created yourself can be shared at any time, while bases that belong to a group can only be shared with other groups by owners and administrators.
A group that has been released a base by you has no owner rights and thus cannot change the name of the base, for example.
To learn how to share individual tables and views of a Base to a group, see the article Creating Custom Sharing.