A Kanban board can be useful to represent dynamic processes with different phases. In this respect, it allows you to visualize workflows and project progress, for example. This is particularly helpful for project planning, product development or task distribution in the team.
Good that SeaTable offers you all these possibilities with the Kanban plugin. You can learn how to activate the plugin in a Base here.
Structure of the Kanban board
The Kanban board consists of columns that stand for different steps or phases in a process. In a workflow, for example, these can be "idea", "in progress", "done" and "planned".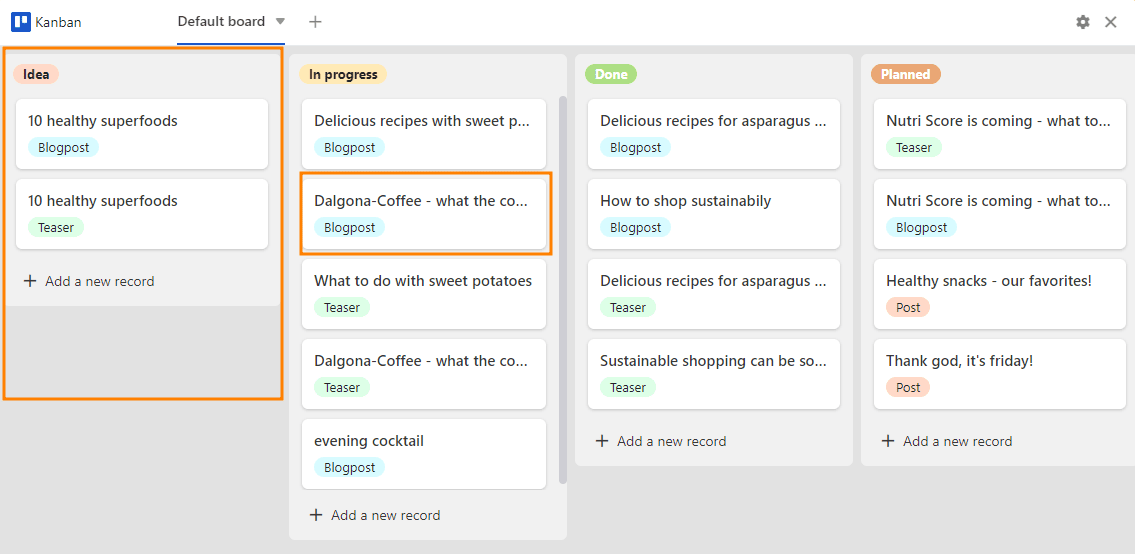 You provide the columns with movable cards that you can move both within a column and from one column to the next. For example, a card can stand for a work package or a task.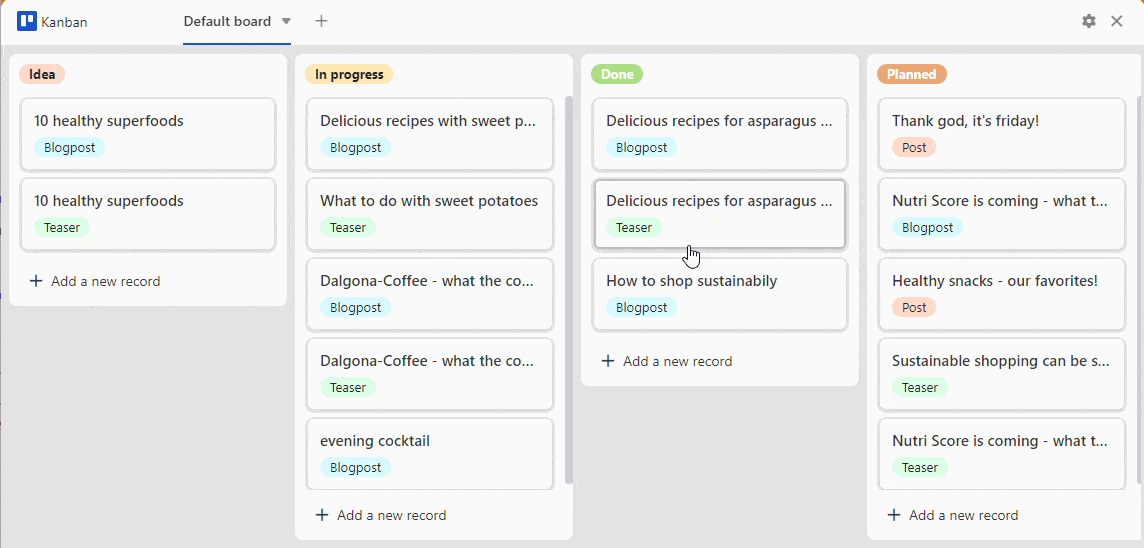 Setting options of a Kanban board
Via the settings, which you can reach by clicking on the gear icon , you can define the following for the Kanban board:
Table
View
Grouping
Title
More columns
Controller options
Table and view
If you have several Tables and Views created in your Base, you can choose from them.

Multiple Kanban boards
You can also create multiple Kanban boards in a Base if you have either created multiple tables, multiple views of a table, or want to group by different columns.
Grouping
The grouping determines which column defines the columns. Selection and employee columns are particularly suitable for this.


In this example the column Status chosen. As pillars were thereby the Options "idea", "in progress", "done" and "planned" defined.
Title
The entries in the column you specify under Title determine the heading of the cards of a Kanban board.

More columns


Here all Columns that you have created in your table. By activating the individual Controller the entries in the respective columns become visible as informative notes on the cards.

Note
Open the line details by clicking on a card to see all information of a row , even if they are not activated in the Kanban board.
Controller options
Via the slider options you have the possibility to change the visual representation of the Kanban board.
The Do not show empty values slider allows you to remove grayed placeholders on the cards.
The Show column names slider shows the column names above all activated information.
The Wrap Text slider formats texts so that they are fully readable on the cards of the Kanban board.